Showtime Back Into Queer-Friendly Programming With New Ball Culture Series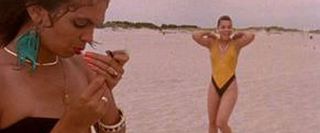 Showtime, the former home of queer-friendly shows like The L Word and Queer As Folk, is preparing to dive into the flamboyant, queer, impossible to define world of Ball House culture. Fresh off an Emmy nomination for Temple Grandin, writer W. Merritt Johnson is taking a gander at the idea for Showtime, bringing with him Precious director Lee Daniels to help develop the as-yet untitled project. The contemporary drama, which will be based on the culture highlighted in the 1990 documentary Paris is Burning will take a look at the multicultural, largely LGBT youth who join "houses" and compete in walk-offs for prizes and general fame.
Unlike the glossy The L Word and Queer as Folk, Johnson's project will be highlighted a much lesser-known and younger subculture; if you want to know more about ball culture, this Wiretap article is a great place to start. While ball culture exists in most large cities, the project for Showtime will focus on New York's City's culture. Since Lee Daniels is a well-known New Yorker and openly gay, he seems like a great fit to partner with Johnson.
According to Deadline, both men are super busy, with Johnson recently completing the screenplay for Lovelace, the Linda Lovelace biopic, and Daniels working on The Paper Boy with Nicole Kidman. Where the two men will find time to write a script and put together a TV series is beyond me. However, there's no doubt if the two men are successful, Showtime will be happy to fulfill the niche programming that has been missing since The L Word was canceled. Cinema Blend will keep you posted.
For a visual sample of Ball culture, check out the trailer for Paris is Burning, below.
Your Daily Blend of Entertainment News
Thank you for signing up to CinemaBlend. You will receive a verification email shortly.
There was a problem. Please refresh the page and try again.