Why Lee Daniels Didn't Want Andra Day To Audition For Billie Holiday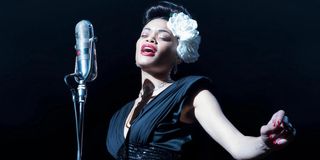 The biographical drama from Lee Daniels, The United States vs. Billie Holiday, features a stand-out performance by Andra Day. This is the singer-songwriter's first major film role and it earned her the Golden Globe for Best Performance By An Actress In A Motion Picture, Drama. So Day was certainly the right choice for the film's Billie Holiday, but it turns out Lee Daniels originally didn't want her to audition.
Prior to the release of The United States vs. Billie Holiday, Hulu aired A Conversation with Oprah Winfrey, Lee Daniels, Andra Day, Suzan Lori-Parks & Trevante Rhodes. Viewers were treated to a deep conversation around the story, preparation, and impact of the film depicting the life of Billie Holiday, moderated by Oprah herself, and also a great story about how Andra Day was cast in the titular role. Here is what director Lee Daniels shared about casting his lead:
Wow, talk about a match made in Heaven! From not wanting her to audition to knowing the role was hers, no question about it, it sounds like Lee Daniels put Andra Day through the wringer to book this role and it paid off for both of them. Day put 110% into capturing the essence of Billie Holiday, from meeting with addicts to fully understand Holiday's addictions to drinking alcohol and smoking cigarettes, and even studying the differences between Holiday's sound when performing live versus spending time with friends in the studio. Check out this clip from the film:
Didn't that performance blow you away? The likeness is uncanny and the talent is off the charts. Andra Day is stunning and authentic in every scene, and Billie Holiday's story couldn't be more timely. On multiple fronts, the film is educational and a great conversation piece.
The United States vs. Billie Holiday is now streaming on Hulu (opens in new tab). CinemaBlend also has all of Hulu's March releases handy so you can plan all your movie nights and binge-watching sessions. Happy streaming!
Obsessed with Hamilton and most things Disney. Gets too attached to TV show characters. Loves a good thriller, but will only tolerate so much blood.
Your Daily Blend of Entertainment News
Thank you for signing up to CinemaBlend. You will receive a verification email shortly.
There was a problem. Please refresh the page and try again.