Showtime Renews House Of Lies, Californication And Shameless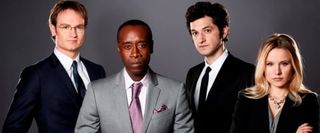 With its Sunday lineup going strong, Showtime made the easy decision today to renew three of their current shows-- according to Deadline, Shameless, House of Lies and Californication have all gotten pickups for a new season. Add that to Homeland, which was renewed for a second season early in its premiere run last season, and Showtime is now sitting on a raft of hits, some new and some old, all of them at least moderately critically acclaimed.
Here's what Showtime's entertainment president David Nevins had to say about the pickup:
Shameless is up 30% from its season 1 weekly viewers, and is the second-most watched show on the network behind long-running hit Dexter. House of Lies is slightly less-watched but still the network's best-watched comedy, and Californication, even in its fifth season, is up 10% from Season 4. With Weeds and Dexter both looking close to the end of their runs, Showtime still appears to be in pretty good shape, with a wide variety of shows at different points in their runs to keep the network afloat-- and, in the case of Homeland, make the case that Showtime is putting out some of the best TV you can find. Way to go, everybody.
Staff Writer at CinemaBlend
Your Daily Blend of Entertainment News
Thank you for signing up to CinemaBlend. You will receive a verification email shortly.
There was a problem. Please refresh the page and try again.