The Simpsons Puts Michael Cera In A Guest Spot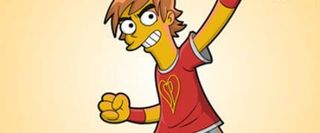 This is the first bit of Simpsons' news in at least a decade that has me at all interested (although it's still going to be an uphill battle to get me to tune in). As much as people have come to hate on Michael Cera, mostly for his type-casting or role-repeating, I have never wavered in my belief that this kid's got chops. Not just awkward, quiet and funny chops but that he actually has a lot of talent that we've yet to see...
And I mean, really, can you blame the kid for grabbing a hold of many of those roles in the uncertain world of fame and celebrity? I don't and beyond that he's got comic timing like few others... BUT what I do hold against him is making a guest appearance on a show that should have died ten years ago. EW reports that Cera will have a guest spot (well, his voice anyways) on everyone's favorite animated comedy, The Simpsons. According to the article, "Cera voices Nick, a seemingly gallant boy who becomes a potential love interest for Lisa." I'd be really excited if this was 1996 and The Simpsons was the best show on television and not 2011 where it's become that pesky neighbor who JUST WON'T LEAVE!
Sorry. Venting. The episode that features Cera, titled, "The Daughter Also Rises," is scheduled to air sometime next season (NEXT SEASON?!? Euthanasia anyone?).