The Sixth Gun And Oxygen CW Pilots Find Directors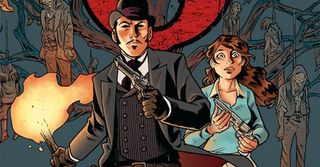 Now that the networks are finishing up their pilot orders for the upcoming season, we should expect to hear more updates on casting and directors for the comedies and dramas in development. Such is the case for two dramas in the works at The CW. Gary Fleder and Jeffrey Reiner have been tapped to helm drama pilots, with Fleder on Oxygen and Reinder on The Sixth Gun.
Oxygen was one of the most recent pilot pickups at The CW. The project is written by Meredith Averill and sounds like a sci-fi Beauty and the Beast-like story, as it follows a romance between a human teen girl and one of the alien students attending her high school. Deadline reports that Gary Fleder is directing the pilot. His TV directing credits include October Road, Vegas, and fittingly enough, the pilot for the CW's Beauty and the Beast.
Meanwhile, we learned last week that the CW was developing a pilot based on the supernatural western graphic novel The Sixth Gun, with Lost's Carlton Cuse attached to produce. The pilot is written by Ryan Condal and Deadline says Jeffrey Reiner will direct. Reiner has wide variety of TV credits to his name as a director, with everything from Friday Night Lights to the pilot of Caprica, episodes of Mighty Morphin Power Rangers and NBC's short-lived but intriguing high concept dramas The Event and Awake. He also directed the David E. Kelley Wonder Woman pilot that didn't make it to series. With all of that experience (and then some), it sounds like Reiner is well equipped to tackle The Sixth Gun.
Your Daily Blend of Entertainment News
Thank you for signing up to CinemaBlend. You will receive a verification email shortly.
There was a problem. Please refresh the page and try again.