Smash Creator Theresa Rebeck To Step Down As Showrunner After Season 1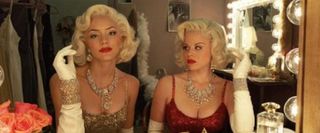 Hot on the heels of the news that Smash has been renewed for a second season, the news has broken that the musical's showrunner, Theresa Rebeck, won't be at the helm anymore. She's headed back to the theater, but will likely retain some involvement in the series. Which leaves an opening on the show, and a whole lot of questions.
Theresa Rebeck, on whose real life one of the lead characters in Smash is based, will exit as showrunner at the end of the first season according to Deadline. It's unclear what led up to the decision and whether it was Rebeck's decision alone or came from another source. Word is she is going back to her theater career – perhaps television wasn't quite her milieu?
Earlier today the renewal of the series for another season was announced, which may leave some people surprised to hear that the creator and showrunner is on her way out. You would think the success of the series would keep her on – however, there has been some grumbling among fans and critics as to the direction the plot has taken which makes me wonder what sort of creative differences might have led to the split.
The character played by Debra Messing, Julia, is actually based on Rebeck, so her spirit won't be leaving entirely. She'll also retain executive producer status and is expected to do some writing for the series in the future. She just won't be involved in the everyday running of the show. What effect will this have on the show? It all depends on who comes in to take Rebeck's place and of course any other changes that might come along as Smash heads into its sophomore season.
Your Daily Blend of Entertainment News