Smash Premiere Watch: Bright Lights, Big City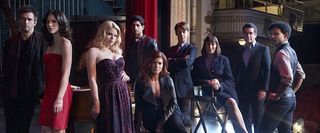 Okay, let's get this out of the way now. I keep hearing..."Smash. It's like Glee. Or Fame. Or Slings and Arrows (if you haven't heard of Slings and Arrows, Netflix it. It's awesome, and it gave us Rachel McAdams)." And it's none of those things. Yes, it's a musical. But this show owes a lot less to those "bright lights, big dreams" theater shows, and a lot more to The West Wing, in that it's about the complicated lives of people in a big-game environment, with lots of balls in motion.
And that's why it's awesome, and I dearly want to see this show succeed. It's open, dramatic, accessible, and also smart and classy. Spielberg's guiding hand of clear storytelling and beautiful, expensive cinematography is all over this, and it's got a laundry list of theater greats attached (as mentioned in my preview piece from last month). It's pieced together and directed with such love and affection for theater as an art form and medium that, if theater's touched your life, from high school experiences onstage and backstage on up to working on professional stages and beyond--if you've ever been a part of a show, in any way, something in this is going to resonate with you.
That's the magic of Smash. It's about the road to Broadway for one sprawling band of New York hopefuls in different areas of the industry, sure. But it's also about every show each and every one of us have put on, with the stakes raised and the volume turned up to eleven.
So, let's get to recapping. Short-short version: Julia (Debra Messing) and Tom (Christian Borle) are a musical-writing duo with several shows and one Broadway hit under their belt. Julia's on hiatus from working on shows, because she and her husband (Brian d'Arcy James) are working through the process of adopting a kid (their second), and Tom's taken on a new personal assistant named Ellis (Jaime Cepero) that he may or may not have a crush on. An idle whim of a conversation sets Julia and Tom working on several songs that could be the basis of a new musical about Marilyn Monroe, and they recruit bodacious blonde Ivy Lynn (Megan Hilty) from their currently-running show to record a spec song as a demo...which Ellis records via iPhone and throws up on YouTube, where the normally-nasty critics and bloggers fall in love with it.
This attracts legendary Broadway producer Eileen (Anjelica Huston), who pulls together a full demo number, directed by womanizing genius Derek (Jack Davenport). The success of the demo number leads to an audition for a workshop production, which narrows the choice of Marilyn down to two: Ivy, the Marilyn-esque blonde with Broadway experience, and Karen, the relative newcomer with a light resume and girl-next-door effortless charm.
That's it, in brief. Like The West Wing, this is a show with several levels and spinning plotlines, and a dozen lead characters. Breaking it down, we've got a few threads to follow:
Karen: A midwest girl without the sheen and polish of Broadway vets, Karen nonetheless wins over the producing team with her self-assurance and refusal to come into the Marilyn audition in mink, a blonde wig, and a pink dress, like everyone else. Believe the hype: McPhee is the real deal here, a legit triple threat. American Idol was a long time ago, and this woman's talent has nothing to do with that and everything to do with the fact that she's got the chops. She's like Lea Michele without the near-cloying diva quality. It's a breath of fresh air, which is saying something, because her plot in this episode, sandwiched between her doting and supportive boyfriend and her chiding midwest parents who want her to get a real job, is maybe the most cliched thing about this episode.
It's lucky for her that it's presented naturally and without a tendency to beat us over the head with it, and by the end of the episode, she's in a very different place than she's started. This isn't about a naive midwest girl's adventures in the big city; it's about (among other things) two very different women vying for the same part. And I think it's a wise choice for Smash to quickly acknowledge the whole newcomer thing and then move Karen's story to a new place.
Ivy: Megan Hilty is Broadway royalty, and it's pretty awesome to watch the country fall into fan-love with her. It's easy to watch the promos for Smash and think that we're going to get a good girl/bad girl thing between Karen and Ivy, but it's not that simple. Ivy's got Broadway experience, but she also has family out there in middle America who are oblivious to who she is and how hard she's fought for what she has. Just like Karen, she's come to New York and fought for her place onstage, and she's had enough victories to earn a Broadway credit or three. This isn't about Yin and Yang; it's about two women who have some surprisingly similar core qualities in drastically different packages. And I'm looking forward to seeing where the "who gets Marilyn" subplot goes as this show finds new and interesting ways to throw these women against each other.
Eileen and Derek: Broadway producer Eileen has a storied history as a Broadway hitmaker, and her taste in theater is matched by the depth of her pocketbook. Of course, she's going through a messy divorce and her husband has frozen her assets. I love that Smash isn't afraid to go here; lots of good productions, on and off Broadway, have been ruined by a funding stream that's dried up, and it's a great source of intrigue and drama. And Anjelica Huston is at her best, channeling her Royal Tenenbaums energy into a new and fearsome direction.
Eileen's friendship with Derek is interesting, too. He's all sorts of casting-couch-using, condescending scum towards the other men and women of this cast, but Eileen makes him respect her, which is a great dynamic. Derek's attempted seduction of Karen also reveals a lot about both of them, in that he thinks she's a little PG rated and she doesn't know what to do when invited to a private "coaching session" at his apartment the night before the callback. They both surprise themselves, and each other, and it's a great swerve that makes what could be a just-good pilot pretty great.
Tom and Julia: This is where I think the real heart of Smash is going to live (ignore the marketing, people)--this creative team is based loosely on Ahrens and Flaherty, the amazing pair behind musicals like Ragtime and Suessical. And Debra Messing dusts off her Lucille Ball charm in a few great comic moments that take this relationship back to her Will and Grace days, but she's older now, in a more sophisticated part. It's clear the friendship between these two has lasted a long time, and it's going to be fun to watch Tom's scheming assistant and Julia's family pressures stretch this bond to the limit. And I'm DYING to know why Tom hates Derek so much. Yeah, Derek's a jerk, we know. But Tom has a very specific past with him, and I'm looking forward to seeing what this conflict really looks like. And it looks like Tom's pulling for Ivy, and Julia is on Team Karen, so we'll see where this is going to go.
So, there we are: the relationships and intrigues of Smash. That's the nuts and bolts, friends. And here's the dangerous part--why this show is better, classier, and more solidly constructed than Glee. Now, I've worked in theater my adult life, and taught a little college on the subject here and there. So this may get a l'il academic. There are three kinds of on-screen musicals, and ways you can treat songs. First, there's the "this is reality" model, like Fame or Cabaret, in which songs are only sung in situations where they'd happen in the real world, such as onstage or in a rehearsal room. It's sort of boring, sure but, it means that people who don't understand how musicals often "work" can get into the action, fairly easily.
Second, there's the "use your imagination" model, in which the larger-than-life moments found in musicals take place in someone's head. Chicago did this best, and it creates a narrative device where a director can do some neat stuff while not violating the audience's perception of reality. Third, there's the "screw reality" model, in which people burst into song when emotions hit a high point, and it's clear that we're operating in a different world than the one in which we live. Lots of musicals do this, with results ranging from genius to awful: Rent, The Wizard of Oz, and Moulin Rouge work this way.
See, Glee has used all three of these tactics, with no rhyme or reason to logic or in tandem with the storytelling of each episode. On my third viewing, I realized that Smash is teaching its audience to accept how it's going to tell a story: for the first half-hour, all the songs are set in reality, then we get a number or two with imagination-based elements, and then, in the end, we get Karen and Ivy, ramping up for their callback, singing their hearts out on the streets of New York. In this pilot, Smash gives an audience, that may or may not be ready to accept how film musicals work, a crash course in the subject, and by the end, we're right there with it, singing along and ready for Episode Two.
And that's why I love this show, people. It cares enough to make sure the audience is involved, and taken care of, and that its characters are smart and intriguing enough to keep us coming back. As pilots go, this is pretty damn good. Although I don't understand where all these people of varying incomes can all afford adorable New York apartments...and they all have exposed brick features! I'm so JEALOUS!
Ahem.
I'll see you next week, friends--what did you think? What worked? What didn't? Team Karen or Ivy? Let us know in the comments below!
Your Daily Blend of Entertainment News