So, Nashville Hit Fans With A Huge Shocker Last Night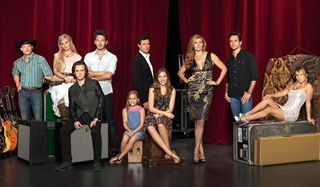 Spoilers for last night's episode of Nashville, below. If you haven't caught Episode 6 "Please Help Me, I'm Fallin," now's a good time to skedaddle.
Original television has grown by leaps and bounds in recent years, leaving many shows to work in water cooler moments to keep fans talking. One of the easiest ways to do this is to introduce a character's death. While we've known that someone might die on ABC's Nashville thanks to some clever promos from the network, the show threw a major twist at fans last night, killing off a character that no one saw coming (but maybe we should have).
That's right, that's an image of Jeff, who ended up dying during the episode. During Episode 6, Nashville went out of its way to introduce us to an utterly devastated Juliette, a woman who is on the edge of sanity and who realizes early in the episode that Avery is officially done with her. This leads to a drinking and drugs binge at a hotel and later in the episode Juliette goes up to the roof, contemplating suicide. It is Jeff who goes up to the roof in the attempt to sort-of be her white knight and bring her down. Only Juliette is totally soused and he has to be a little forceful to get her down. She slipped backwards and he fell over the side, leading to his ultimate demise. What a strange, surprising twist to the story, so different from where many assumed the Nashville story was going.
Honestly, last week's promos really seemed to spell out what ABC was angling for with it's Juliette plotline. After scream-crying through the first half of the promo, we saw her standing on the ledge of a roof with a bottle in her hand. Later in the promo, ABC flashed the words "a fatal end," proving the show absolutely planned to kill a character off. As crazy as it seemed that Nashville might kill off one of its main characters, I literally had no clue as to where else the episode could be going. Here's the original promo:
However, while Oliver Hudson's Jeff Fordham was a mainstay character on Nashville last season, the show actually cut him down to recurring status this season, but we're assuming it had nothing to do with his performance. Instead, Hudson hopped over to Fox, where he can been seen on the network's freshman drama Scream Queens. So maybe we should have all seen his exit on Nashville coming. Then again, Nashville isn't exactly known for killing off characters each week, and a fall off of a roof is a pretty unexpected way to go.
What did you think of the way "Please Help Me, I'm Fallin'" played out? Let us know, below.
This poll is no longer available.
New episodes of ABC's Nashville air on Wednesdays at 10 p.m. ET.
Amazing Race & Top Chef superfan with a pinch of Disney fairy dust thrown in. Theme park junkie. If you've created a rom-com I've probably watched it.
Your Daily Blend of Entertainment News
Thank you for signing up to CinemaBlend. You will receive a verification email shortly.
There was a problem. Please refresh the page and try again.