Spike TV Reality Show Offers Winners Of The Last Family On Earth A Bunker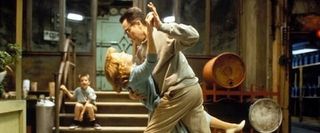 While the countdown to December 21, 2012 may be a source of anxiety for those who follow the Mayans way of thinking, Spike TV appears to see the reality TV potential in the possible end-of-the-world scenario that awaits. It looks like the cable network is set to move forward with a series that will give one family a cozy new bunker to settle into if/when the world ends later this year.
Deadline posted the news, stating that Spike TV has green lighted Last Family on Earth, a competition series that will have families competing for a place in a fortified Vivos bunker. The series will consist of six one-hour episodes, which will premiere this fall and have the families enduring various physical challenges. Their leadership abilities will be put to the test and the competition will attempt to showcase survival techniques. And fittingly enough, the finale will take place on December 21, when the winning family will move into their bunker. Per Deadline's report, various doomsday scenarios will be explored. This include a pandemic, global government or economic collapse, nuclear war, reactor meltdowns and the like. No word on whether "zombie apocalypse" is among them, though that might fall under "pandemic."
I'm actually genuinely curious about the tone of the series. While it seems like the network is having fun with the idea of the end of the world, it also sounds like there may be interesting survival skills worth learning.
As for the prize, the idea of a family moving into a bunker together reminds me of the 1999 comedy Blast from the Past, which follows a family that lives in a nuclear fallout shelter for 35 years, not realizing the bomb never dropped. I wonder how long the winning family will actually attempt to live in their bunker. Might make for an interesting reality show...
Your Daily Blend of Entertainment News
Thank you for signing up to CinemaBlend. You will receive a verification email shortly.
There was a problem. Please refresh the page and try again.