Star Trek Voyager's Jeri Ryan Joins Syfy's Helix For A Multi-Episode Arc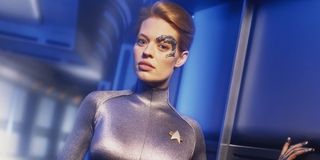 Actress Jeri Ryan has dabbled in a variety of genres, with her most recent credit being a role in ABC's drama Body of Proof, but to sci-fi fans, it's likely that she's best associated for her role as Seven of Nine in Star Trek: Voyager. Syfy's bringing her back to the genre for a role in a multi-episode arc in their upcoming series Helix.
This announcement was made just the other day when some of the press had the opportunity to visit the set of Helix. We'll have more coverage to share with you on that in the near future. In the meantime, I'll say up front that everything I've heard about the show has me feeling very hopeful that this drama will be a great addition to Syfy's slate of original programming. The 13-episode series is described as an intense thriller about a team of scientists from the CDC who head off to a high-tech research facility called Arctic Biosystems, to investigate a potential disease outbreak. They soon find themselves trapped in a terrifying life-and-death struggle that could make or break mankind's future. And that's just the start of this story, as the virus is said to evolve, bringing to light a chilling truth. Billy Campbell stars as Dr. Alan Farragut, the leader of the Centers for Disease Control outbreak field team that goes to investigate and contain the potential outbreak.
Ryan will play the beautiful and charismatic Constance Sutton, the Chief Operating Officer of Ilaria Corporation, owner of Arctic Biosystems. She's said to be charming and savvy, and used to getting her way at any cost. Seems like just the character to throw a twist on things, doesn't it? From what executive producer Cameron Porsandeh told us on Monday, Constance shows up just as the characters are starting to get a handle on the situation -- or think they are anyway -- and she changes things. How, exactly, he wouldn't say, but it sounds like that's all part of the mystery that's going to be unfolding in this series. Porsandeh says Ryan plays the role beautifully. "We couldn't have gotten a better person," he added. So that's good to hear.
In addition to Campbell, Helix stars HIroyki Sanada as Dr. Hiroshi Hatake, Kyra Zagorsky as Dr. Julia Walker, Mark Ghanime as Major Sergio Balleseros, Jordan Hayes as Dr. Sarah Jordan, Meegwun Fairbrother as Daniel Aerov, Catherine Lemieux as veterinarian Dr. Doreen Boyle and Neil spier as Dr. Peter Farragut, brother to Campbell's character.
As I mentioned, we were on the set of Helix up in Montreal earlier this week. We'll be sharing some of that coverage in the near future. While we don't have any pictures of Jeri Ryan on set, here's a tease of one of the sets we got to look at.
Keep an eye out for more Helix coverage here and over at our sci-fi-loving sister site GiantFreakinRobot.com. In the meantime, check out the previously released teaser for Helix here.
Your Daily Blend of Entertainment News
Thank you for signing up to CinemaBlend. You will receive a verification email shortly.
There was a problem. Please refresh the page and try again.