Starz Developing Underbelly - The Australian Sopranos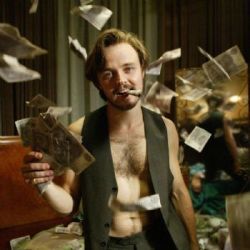 Still reeling from The Sopranos ending that left us wondering about the future of Tony and his Jersey cronies? Need a story replete with guns, drugs, murder, nightclubs, hookers, and whatever else is associated with the underworld? Just want a little more glorification of the mafia? Starz might have the answer. According to New York Magazine, the premium station is developing a new series about the gang and mafia crime world. The show will be based on Underbelly, a hit Australian series, based on actual events, that ran three very popular seasons. The Starz version would base the story on the Australian original, but rewrite the story with an American tilt.
Chris Albrecht, the CEO of Starz, headed HBO during its critically acclaimed run of The Sopranos and Wire. His purchase of the rights to Underbelly means we can probably expect to see Starz move in a similar direction. This is good news for people who like great television.
From what I gather, each season of Underbelly deals with specific, real-life events, from the Australian gang world. The first season focused on gangland deaths in Melbourne where high profile criminals were murdered. The second season deals with the heroin trade in Sydney and Melbourne and the third with Kings Cross nightclub scene in the 1970s. The producers for the American version are looking into how to incorporate stories on US soil with the Underbelly framework.
If this is the next Sopranos, count me in. HBO developed some great television in the 2000's and if Starz is ready to use the same formula then so be it.
Your Daily Blend of Entertainment News
Doug began writing for CinemaBlend back when Terminator: The Sarah Connor Chronicles actually existed. Since then he's been writing This Rotten Week, predicting RottenTomatoes scores for movies you don't even remember for the better part of a decade. He can be found re-watching The Office for the infinity time.