Stevie Nicks To Mentor Idol Contestants Next Week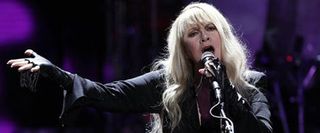 Season 11 of Fox's American Idol has seen a lot of interesting weekly mentors over the past few episodes, including producer and rapper P.Diddy and the Black Eyed Peas' will.i.am. Next week, the remaining nine Idol contestants will each choose a song to fit the week's "Their Personal Idols" thing and they have nabbed an iconic female performer to help the contestants gear up for the live stage.
Stevie Nicks is set to join American Idol as a mentor next week. According to THR solo artist and former member of Fleetwood Mac will join buddy – and former flame! – Jimmy Iovine in helping the remaining contestant push their vocals so they may easily move on in the competition.
Only a few contestants have spoken out so far about working with the blonde diva, but since the episode is all about the contestant's own idols, I wonder if any of them had Nicks as the frontrunner on their own lists. Sixteen-year-old Jessica Sanchez let the cat out of the bag via Twitter that she met Nicks earlier yesterday.
Personally, I'm pretty excited to see what Nicks can do with this season's crop of youngsters. Watching her give advice will certainly be better than what Idol did with other blonde bombshell icon, Gwen Stefani, who was relegated to giving fashion advice to contestants. However, I'm not certain any advice Nicks can give will top the performance she gave on America's Got Talent, just last summer.
American Idol airs Wednesdays and Thursdays at 8 p.m. ET on Fox.
Your Daily Blend of Entertainment News