Stewart And Colbert To Return In '08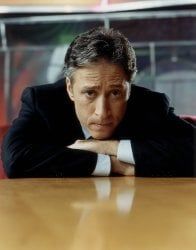 Given the fact that all of the network late night shows have either announced their return or are exploring the possibility, it was just a matter of time before Comedy Central's shows followed suit. Today, the network has announced that both The Daily Show and The Colbert Report will be returning January 7th. As is the case with fellow chat hosts Kimmel, Leno and O'Brien, Stewart and Colbert will be returning without their writing staffs.
Although The Daily Show and The Colbert Report are half as long as their network counterparts, interviews only make up a small portion of each episode. The rest of the program is heavily writer-oriented, which makes roughly 90% of their usual content completely off-limits. According to The Hollywood Reporter, Comedy Central is working on a new writerless format for the shows, but has yet to reveal what that would be.
The one advantage that these shows may have over their network counterparts is the variety of guests. While Leno et al are probably going to have a difficult time getting SAG members to cross the picket line, TDS and Colbert often interview authors, musicians and politicians, in addition to actors. For their part, Colbert and Stewart clearly aren't thrilled to be returning without their scribes. In a joint statement released today, they say, "We would like to return to work with our writers. If we cannot, we would like to express our ambivalence, but without our writers we are unable to express something as nuanced as ambivalence."
Your Daily Blend of Entertainment News
Your Daily Blend of Entertainment News
Thank you for signing up to CinemaBlend. You will receive a verification email shortly.
There was a problem. Please refresh the page and try again.