Suits Renewed For Season 5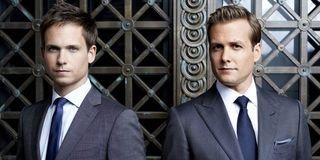 In what may be the least surprising news you will read all week, USA has renewed its flashy lawyer drama, Suits, for a fifth season. The show is currently airing the first part of its fourth season, and has been doing quite well as part of USA's summer programming cycle. With a split-season format that seems to be working for the network, it's no surprise that USA would want to bring Suits back for another round of snarky, pop-culture ridden dialogue and plotlines.
On Monday, the network announced that Suits has officially been renewed for 16 episodes next season. USA Network President Chris McCumber stated in a press release that the deal was made because the show "continues to fire on all cylinders," averaging 1.6 million viewers in the coveted 18-49 demographic. What he doesn't mention is that the show has dropped in the ratings over the last couple of seasons, although has averaged roughly the same number of viewers during Season 3 and 4. Still, those numbers seem good enough to sign on for another round, and that is exactly what USA has done.
Mild Spoilers if you are not caught up on Suits. Suits had a lot at stake at the beginning of Season 4. Mike split from the Pearson Specter firm, and took a job as an investment banker. Eventually, a mutual interest in a company takeover put Mike and his mentor, Harvey, at odds, leading to some of the most exciting and personal conflict the series has ever offered. Unfortunately, that arc was to be short-lived. In more recent weeks, Suits has begun to settle back into its old routine, meaning Mike has to pretend he has a law degree once more. I'm not sure how much of a shelf life Mike's secrets will have as the show continues into a fifth season, but obviously, USA doesn't seem to have the same reservations that I have.
On the bright side, the writers should have plenty of time to come up with a juicy Season 5 premise, as we are still a long ways off from a Season 5 premiere. Season 4 just started airing in June and episodes are slated to air on August 13 and August 20 before the show goes on hiatus. It's likely that fans will get the final six episodes of Season 4 this spring, meaning Season 5's official 16 episodes will start airing during the summer of 2015.
The split episode format isn't new to Suits. USA began using the split season format way back in Season 2, picking up in January of 2013 after going on hiatus in August. Over the course of the last several seasons, Suits hasn't shown a huge drop in viewership between its summer and spring airings, and the slight drop it does post could easily be explained by lower ratings for many shows that air in the spring. Whether or not you are a fan of the format, it looks as if it will be sticking around. Just remember that when Suits returns this spring, it won't be for Season 5. Instead, the latter half of Season 4 is still on the horizon. And just to make things a little more confusing, you can currently catch new episodes of USA's Suits on Tuesday nights at 10 p.m. ET.
Amazing Race & Top Chef superfan with a pinch of Disney fairy dust thrown in. Theme park junkie. If you've created a rom-com I've probably watched it.
Your Daily Blend of Entertainment News
Thank you for signing up to CinemaBlend. You will receive a verification email shortly.
There was a problem. Please refresh the page and try again.