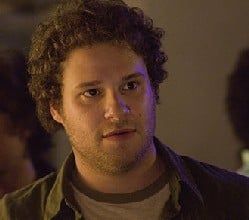 Remember when you couldn't go to a movie without seeing Ben Stiller, and then, just as you were beginning to accept Blue Steel as part of your everyday life, Will Ferrell came in and had a part in every movie ever? Now it seems that it's Seth Rogen's turn. The star of Knocked Up is appearing in five different films in 2008, including the upcoming Pineapple Express and the new Kevin Smith movie, Zack and Miri Make a Porno, both of which I am super-excited about. Even better, Rogen is coming to the small screen—sort of.
While we may not be seeing him on TV any time soon, Rogen and his writing partner, Evan Goldberg, are currently writing an episode of The Simpsons. According to an interview at Collider.com, Rogen got the gig they way only an A-lister could: he asked for it. According to Rogen, he and Goldberg "…called The Simpsons and asked if we could write an episode. Evan actually met James L Brooks at a party and James said he really liked Superbad, so we thought there's our in. Maybe we could ask to write a Simpsons." He makes it sound so easy.
While he's not allowed to talk about the specific plot, Rogen did go a little bit into the process of pitching the story, saying, "We went in and pitched them like 5 ideas and surprisingly they hadn't done some of them. And…yeah…we all sort of settled on one during the meting and then we went out and wrote an outline and they gave us notes on it. Then we re-wrote the outline."
The episode probably won't be seen anytime soon, as they're not even due to turn in the script for a few more weeks. After that, the episode goes into animation, which takes several months. Rogen and Goldberg are obviously talented writers (they penned the scripts for both Superbad and Pineapple Express), but their humor tends to skew more towards the adult side of the spectrum. They would have fit in perfectly with The Simpsons Movie, but I'm curious to see how they'll tone themselves down for primetime.
Your Daily Blend of Entertainment News
Your Daily Blend of Entertainment News
Thank you for signing up to CinemaBlend. You will receive a verification email shortly.
There was a problem. Please refresh the page and try again.