Supernatural Season 10, Episode 22 Watch: The Stynes Land in Dean's Crosshairs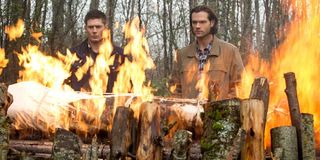 Jensen Ackles is an outstanding actor. So are Mark Sheppard, Misha Collins, and Jared Padalecki. Tonight's penultimate episode of Supernatural gave these gentlemen a chance to flex their acting muscles in a way we see maybe a few times a season. "The Prisoner" was the best episode of this show I've seen since "Road Trip" in Season 9 and hearkened back to the heyday of Seasons 4 and 5. We'll discuss the standout moments for each character below, but the most amazing part of this hour was that it delivered the goods without a typical Supernatural plot. The characters, their interactions, and their growth were all it took to give us a dynamite hour of television.
This was Dean's showcase from start to finish. It started with his burning fury at Sam's betrayal and ended with the coldhearted beatdown of one of his few remaining friends. Oh, and along the way, he single-handedly wiped out the entire Styne clan. I'm hard-pressed to say which scene was more badass to behold – Dean's utter demolition of Monroe, Eli, and the nurse; or his Raylan Givens imitation in the bunker when he dropped Eldon with a lightning-quick headshot. It's good to be reminded every so often of Sam and Dean's superb combat skills. Sure, Dean has the Mark of Cain and with it comes super strength and invincibility. But Dean hasn't hit the demon reset button yet. His trail of death and destruction in this episode was 80% Dean, 20% Mark of Cain.
That's what made his climactic showdown with Castiel so gripping. We know Castiel is an angel, but because of what we just witnessed, I couldn't have been alone in thinking that Dean might actually find a way to kill his friend (even without the angel blade). Misha Collins was outstanding during the ass-kicking – don't underestimate the skill it takes to look sympathetic in that moment – and before, when he spelled out his reason for wanting to cure Dean. The thought of Castiel watching Demon Dean murder the world, before being forced to kill his former friend, was just awful. Given how far off the reservation Dean has gone, this is the reality Castiel is facing. Dean was never going to kill his friend in cold blood, but I believe him when he says he won't miss the next time.
Crowley was equally as scary during his scene with Sam. Lamenting his inability to feel anything (a throwback to the Season 8 finale), Crowley seemed like a demon defeated. I thought he might actually kick the bucket. But then the red eyes came out. Correct me if I'm wrong, but I think the last time those came out was when he possessed Linda Tran. That was also about the time the king of Hell started going soft. For all the enjoyment I got from watching Crowley and Dean's bromance develop earlier this season, I'm stoked to have the badass Crowley back in charge. Pulling out the devil's trap bullet and burning his mother's hex bag was proof of just how powerful Crowley can be when he's not trying to be the good guy. Rowena doesn't stand a chance, and depending on how Season 11 shapes up after next week's finale, the Winchesters might be in for a world of trouble.
Going back to the episode's beginning, is anyone else not buying Charlie's death? I don't know why, but I just can't shake the feeling that because we didn't see her killed, and because Eldon didn't get the chance to explain how he killed her, there's a chance she's still alive. I might be totally wrong here. Either way, there's no denying that Dean cared deeply for Charlie. This rampage and whatever fallout comes afterward happened only because of her death. That loss pushed Dean so far over the edge that he wasted an innocent kid in Cyrus, whom we saw endure some horrific treatment at the hands of his twisted family. The writers and the actor (Connor Price) did a great job of making Cyrus a sympathetic character in a short time. His death had a real impact in Dean's descent.
It feels like this season has come full circle. Dean is on a rampage, Sam has a slim chance of saving his brother, Castiel is rattled, and Crowley is burdened with purpose once more. With the key changes to Dean and Crowley's characters tonight, it feels like anything is possible next week. This show has always excelled at crafting exciting finales (what would you even consider the worst one?) and Season 10's ending looks like it will be no different.
I missed the more traditional Supernatural storyline this season, no doubt. Fallen angels, the Apocalypse, a yellow-eyed demon, Leviathan, closing the gates of Hell – these are fun season-long arcs for a TV show to explore. This season's closest comparison has to be Season 3, which devoted much of its run to Sam searching for a way to save Dean from the crossroads deal he made at the end of Season 2. We all know how that turned out for Dean. Demon Dean will be tough to beat in the cliffhanger department, but given the guest star who's returning next week, I'm thinking the writers might have something crazy in store.
Rating:
Let's hear some predictions! How do you think Season 10 wraps up?
Line of the week
"Yeah, well, I kill gods." – Dean (top 10 best quote right there)
Next week on Supernatural
Just imagine Dean as the Grim Reaper. I can't help but laugh.
Your Daily Blend of Entertainment News