SyFy Cancels Caprica To Make Room For A BSG Spin-off Someone Might Watch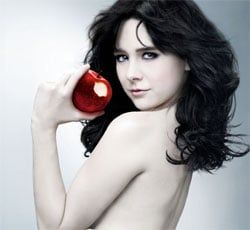 In a surprising move that probably shouldn't be surprising at all when you consider how disinterested everyone was in it, the SyFy Channel has cancelled their Battlestar Galactica prequel spin-off Caprica. It's a surprise only because just a few days ago SyFy announced that they were working on yet another BSG spin-off called Blood and Chrome. That seemed like a confirmation they were going to stick with this spin-off thing even if no one was watching, but now it seems like that announcement was more them saying "look we know Caprica sucks we're going to get rid of it and go in a completely different direction." Good move.
Word is that Caprica will finish its current run out, with the remaining five new episodes airing Tuesdays on SyFy as always, but when they're done, they're done. The show was technically a BSG spin-off, but only in the sense that it told the history behind the events of Battlestar Galactica. In all other respects it couldn't possibly have been a more different show, focused on lawyers and scientists just sort of hanging out and having personal problems while messing with computers. It's as if someone watched Battlestar Galactica and thought, "how could we make this show as boring as possible" and then Caprica was born. As you'd expect, the show had almost no audience, and now the network has given up on it, along with them.
The new spin-off Blood and Chrome will get back to the world of fighter jocks and blasting robots which got people hooked in the first place. Hopefully Caprica hasn't already ruined the BSG universe simply by the fact of it's blighted existence. Luckily it'll be more than a year before Battlestar Galactica: Blood and Chrome is ready, which leaves SyFy plenty of time to get the Caprica stink off it. Might I recommend a few BSG marathons? Just to cleanse the palate.
Your Daily Blend of Entertainment News
Thank you for signing up to CinemaBlend. You will receive a verification email shortly.
There was a problem. Please refresh the page and try again.