TNT Developing Military Drama React For Potential Series - UPDATED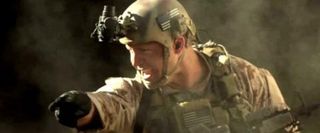 The feature film Act of Valor might be headed for a series on TNT. A project is in development there involving the film's producers as well as the writer from Suits, Sean Jablonski and Bones producer Barry Josephson that could see the Navy SEALS story brought to television.
THR says the movie, which was released in February, is being adapted for the small screen by Jablonski, who left Suits prior to Season 2. Act of Valor is an unusual film in that it stars actual active duty Navy SEALS mixed in with actors including Roselyn Sanchez and Nestor Serrano; unfortunately that led to some serious panning of the acting by the critics. Still, the film was a pretty big box office success and was nominated for a Teen Choice Award. It tells the tale of a group of Navy SEALS whose mission it is to rescue a kidnapped CIA agent, and is inspired by real events. The movie apparently started out as a training film before finding its way to the big screen.
There's not a lot of information on how closely the potential series would follow the format of the original film, especially in terms of casting. It seems unlikely that active duty Navy SEALS would be able to participate in a series project on a regular basis; without that the concept loses a lot of its originality and becomes just another war series. Still, it could be a good fit for TNT's drama lineup. They've also got another 7 potential drama series in development and have yet to make a call on the much-hyped pilot for L.A. Noir
UPDATE: THR now reports a correction to the original story, stating that the new project isn't in fact based on Act of Valor. Instead it's a new project called React that comes from the same people behind the movie, and focuses on a black ops team and based on a true story. It's not officially connected to Act of Valor as originally reported.
Your Daily Blend of Entertainment News
Your Daily Blend of Entertainment News
Thank you for signing up to CinemaBlend. You will receive a verification email shortly.
There was a problem. Please refresh the page and try again.