TV Clips: Sneak Preview of Britney on HIMYM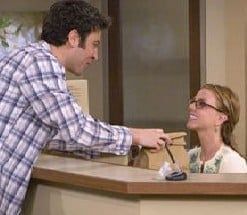 The day is upon us: Britney Spears' guest appearance on How I Met Your Mother is scheduled for this Monday, March 24. Up until now, fans have only had a few lukewarm statements from the comedy's stars: things along the lines of, "…she showed up!" and a couple of pictures from the set to allay our worst fears. But now, thanks to the collective powers of Entertainment Tonight and YouTube, we have actual moving images of Britney's acting job. It's a quick clip, but it gives some idea of what we're in store for.
…So. Her weave isn't as bad as it's been, right? That's something. I don't know. I honestly went into this with an open mind; after all, who doesn't love a good underdog story? Especially when the underdog is crazy? But having watched the clip, I'm not exactly hopeful for Monday's episode. On the one hand, HIMYM has been getting more buzz the past couple of weeks then it's gotten…ever, I think. On the other hand though, people dismiss this as just another dumb laugh track show, a misconception that is partially responsible for its current "on the bubble" status, and anything less than a stellar guest star has the potential to just bring the show down further.
What do you think? Am I being too hard on Ms. Spears, or are you afraid that this was a really bad move? Post your comments below.
Your Daily Blend of Entertainment News
Your Daily Blend of Entertainment News
Thank you for signing up to CinemaBlend. You will receive a verification email shortly.
There was a problem. Please refresh the page and try again.