TV Recap: American Idol – Charleston – This Show is Fake and Rigged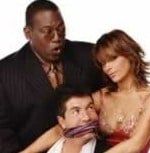 I don't usually feel sympathy for the American Idol judges. I mean, how hard can picking singers and dashing peoples dreams be? But after tonight's Charleston audition show, I really felt bad for Randy, Simon and Paula. Charleston seems truly devoid of any decent talent. The show featured almost 75% rejections, and even the people they sent to the next round were done with conditions. There had already been rumors swirling that this was the worst crop of potential contestants in Idol history, and now we have the proof.
After a hint about Oliver and his labor-bound pregnant wife (this would become a running plotline all night), we meet Raysharde. Raysharde claims to be the "black Clay Aiken," which are three words that should never be next to each other. The only other thing that's notable is that Raysharde's 'fro made him look a little like Dwayne from What's Happening!!. The judges claimed he was "over the top," which I though was wrong, but then again, he was wearing a sequenced shirt right out of Vegas, so he got bounced.
We also saw Crystal and Randy, who met each other on an American Idol internet message board. You can tell they met online, because when they are together in person, they can't keep their hands off each other. The problem with these lovebirds is that although they love the show so much they give advice to people online who audition, neither of them can sing. You know how targets of message board venom always threaten people who post to "not hide behind a computer?" Well, this couple probably should have remained safely behind their screen names and stayed home. I can only hope that such a love connection is made in the Comments section of this article.
At least there was some fun in the episode, when brother and sister duo Jeffrey and Michelle hit the screen. They had all the makings of a good Idol rejection: Jeffrey was wearing a necktie around his head, he talked about having the "OWWW!" factor, and he and his sister were "large boned" But surprisingly, they performed a great, although creepy duet. While Michelle didn't knock the judges over, everyone agree they were better together than apart and they were put through to the next round.
Remember Mykalah Gordon, the obnoxious 16-year old from Las Vegas? Well, we found the white-bread version of her in the form of Amy Catherine Flynn. She's on the dance team and she teaches teens about the virtues of abstinence. You can tell Simon liked her because she made a speech about abstinence that made so little sense, it made you wish for Miss Teen South Carolina to come back and talk about Iraq. Amy has a serious attitude, one that should make for great TV when she gets to Hollywood. I can see her making the girls group, then giving great interviews when she's finally eliminated.
My favorite reject of the night had to be Joshua. Joshua completely destroyed Jennifer Hudson's "And I'm Telling You" from Dreamgirls. It could be one of the worst performances of the season, and Simon had no problem telling him so. Then Joshua had a comeback for Simon and company that they didn't expect: He told them, with brutal sincerity, that the show is "fake and rigged," which actually made Simon's jaw drop. Then after he was insulted by the Brit again, he walked out right in the middle of Paula's critique of him. I wish all the Idol also-rans would take the same approach, instead of begging and crying to be let back in the show, or to try the dreadful "let me try one more song" plea. It may result in an ass-kicking, but it would be worth it (at least for me, the viewer).
The show wrapped up with the conclusion of Oliver and his wife, who went into labor the previous day when Oliver was supposed to audition. I thought the proud papa (and I will admit that the sight of his beautiful, tiny baby Emma swayed my opinion), was the best singer of the night. The judges disagreed with me, they thought he was too over the top and corny. But they did let him bring his Idol baby into the room, which almost made Paula change her mind (see, told ya!). I'm glad that he decided to go to the hospital and skip the audition, which showed better judgment than almost all of the other contestants on the show.
Now the Idol Express heads to Cornhusker Country, Omaha, Nebraska. I think they'll have more luck in the Heartland than they did in Charleston. Even Joshua said it himself: The local news in Charleston was reporting that everyone in Charleston "sucked." After all, everyone knows that if someone said it was on the news, then it must be true.
Your Daily Blend of Entertainment News