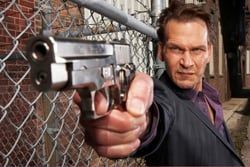 The Beast - Season 1 premiere
Starring: Patrick Swayze, Travis Fimmel
Created By: William Rotko and Vincent Angell
Premieres: Thursday, January 15 at 10:00 p.m. ET on A&E.
I doubt I'm alone in feeling more than eager to see Patrick Swayze make his big acting comeback on the small screen. Oh sure, Swayze hadn't entirely dropped off the map since Point Break but it has been a while since we've seen him in anything big. I was so eager that when I received my copy of The Beast last week, I couldn't bring myself to watch it right away. What if it's no good? What if I've built the hype up in my mind so much that there's no way Swayze could possibly live up to it? I finally bit the bullet and watched the first two episodes today. I'm pleased to say, the series really does seem to have a lot of potential, and what's more, Pat's definitely back!
The Beast centers on FBI veteran Charles Barker (Patrick Swayze) and his rookie partner, Ellis Dove (Travis Fimmel). Barker is training Dove on how to handle undercover work. This includes infiltrating arms deals and other shady business in the Chicago area. The pilot opens with a standoff in which we see Barker demonstrate just how far he's willing to go in order to get the job done. The episode slows a bit after that in order to give Barker and Dove a proper introduction.
Barker's a man who knows how to manipulate situations in order to catch the bad guy. This often means crossing the line and stepping outside normal FBI protocol. Dove is the not-so-clueless rookie who was handpicked by Barker to serve as his partner and protégé. When Dove isn't being schooled my Barker on the ins and outs of undercover work, he's fetching Barker's coffee and serving as his own personal valet. Dove soon comes to learn that in addition to highly stressful nature of his job, having a normal social life or romantic entanglements outside of work isn't really an option.
The series has a distinct Training Day feel to it, with Dove trying to prove himself and Barker serving as the hardened, experienced agent. We learn in the first two episodes that Barker's a man who usually knows what the right call is, even if it doesn't fall entirely on the right side of the law. Swayze carries the role perfectly, portraying Barker as a man with a tough exterior without being too cliché. Fimmel, who reminds me of a cross between Leonardo DiCaprio and Joaquin Phoenix also does an excellent job of portraying Dove as a capable but inexperienced agent, who is eager to prove himself to Barker and to learn to adjust to the lifestyle that comes with being an undercover agent for the FBI.
I expect that each episode will deliver some new case that Barker and Dove will work together on, with the overall story arc focusing on Barker and Dove's relationship, Dove's training and the possibility that Barker might be a bit crooked.
For an original series, I think A&E has something great on their hands. The Beast is definitely drama series with an edge, showing the darker, grittier side to FBI undercover work.
Assistant Managing Editor
Kelly joined CinemaBlend as a freelance TV news writer in 2006 and went on to serve as the site's TV Editor before moving over to other roles on the site. At present, she's an Assistant Managing Editor who spends much of her time brainstorming and editing feature content on the site.
Your Daily Blend of Entertainment News
Thank you for signing up to CinemaBlend. You will receive a verification email shortly.
There was a problem. Please refresh the page and try again.