Tahmoh Penikett Grabs Lead In TNT Original Movie Innocent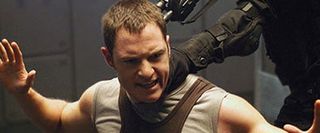 I wish I could say Tahmoh Penikett had great things ahead of him. Amongst the most likeable of the Battlestar Galactica cast, the fit actor has had some troubles since BSG ended its run. At first it seemed like he was on the right path. Penikett had a big role in Dollhouse, but that was canceled after its second season. What followed were some unmemorable guest spots on Human Target and The Killing and what is perhaps saddest of all: a lead in the remake of 2003's laughably bad Riverworld.
Penikett will never be a top-notch TV star, but a new starring role might propel him out of the muck he's been stuck in. According to TV Line, Penikett will play hot-headed prosecutor Jim Brand in Innocent, a TV movie based on Scott Turow's novel of the same name. A TNT timeslot is not quite as glamorous as a big screen debut—which is what Harrison Ford got with Turow's other big novel, Presumed Innocent—but it still shows Penikett is respected in the industry and just needs to find a niche.
Innocent isn't just your average made-for-TV movie. The film is the first in a line of six-themed films slated for TNT on Tuesday Nights. With the films, it looks as if TNT is hoping to lure away some of network TV's regular Tuesday audience. To do this, they've pulled in some heavy hitters. Joining Tahmoh Penikett in Innocent are Bill Pullman, Marcia Gay Harden, and Alfred Molina. The second installation in the series, Ricochet, will star Julie Benz and John Corbett. If TNT finds its Tuesday audience, all Penikett has to do is find a way to compete with the bigger names he's working with to ensure doors will open up for him.
Your Daily Blend of Entertainment News