Take A Video Tour Of American Horror Story's Murder House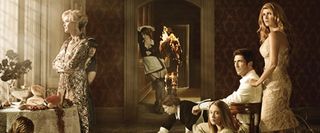 Like many of the best horror movies, FX's American Horror Story gained many of its strengths simply through exploiting its creepy location. The Harmon family moves into a new house at the beginning of the season, hoping that a change of location will help them overcome their problems and come together again as a family. Instead they begin to learn the dark history of their new home, known in the neighborhood as the "Murder House." And as any real estate agent will tell you, it's never a good thing to live in the Murder House. While season 2 will purportedly be switching locations and characters, E News has provided the chance to take one last look at the gorgeous -- and spooky -- real house that was used as the Harmon's all-too-brief home. Check out the video below for a tour.
The pilot was shot on location at the house, which is located in Country Club Park in Los Angeles. For the rest of the series, sets were built to be exact replicas of the house. The distinctive home was built in 1908, designed by architect Alfred Rosenheim, who used it as his own house. Not quite as exciting as AHS's string of murderous doctors and ill-fated lovers, but probably a lot easier on the property owners.
American Horror Story is set to return for a second season this fall.
Your Daily Blend of Entertainment News
Your Daily Blend of Entertainment News
Thank you for signing up to CinemaBlend. You will receive a verification email shortly.
There was a problem. Please refresh the page and try again.