Talent Show Gets A Fourth Season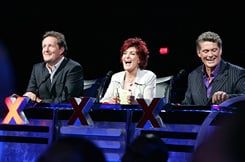 America's most famous talent show has been renewed for another season. No, I don't mean Star Search. That isn't even on anymore, duh. I meant America's Got Talent. You know you watch it. Everyone has been watching it.
Hollywood Reporter has the news on their site, and NBC's reasons are sound. "The production team has stepped up their game creatively as proven by the strong ratings," said NBC's president of alternative programming Craig Plestis. "This is the only show where truly unique and talented performers can achieve their ultimate dream."
So, I'll be the first to admit that I watch it. I do. And I'll also be the first to say that it was a travesty that Cass Haley didn't win the last season. Terry freaking Fader? Are you kidding me? A freaking ventriloquist was the most talented guy? I hate ventriloquists.
And someone I hate even more than ventriloquists is David Hasselhoff. That man is the male Joan Rivers when it comes to face lifts. Creepy! Did you know he has his own social networking site? And he calls it "HoffSpace". Wow. Oh, and I saw the most freaky picture of him when I was trying to find a picture for this article. A clearly nude Hoff is lying back looking sexy with a Shar Pei covering his junk…and another sitting next to him. I really hope this is a photo someone created. Yikes!
Your Daily Blend of Entertainment News
Thank you for signing up to CinemaBlend. You will receive a verification email shortly.
There was a problem. Please refresh the page and try again.