Ted Danson Will Lead CSI This Fall As Laurence Fishburne's Replacement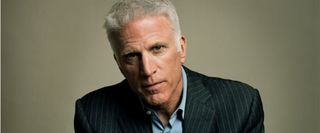 It's already been a month since Laurence Fishburne threw down his badge and gun, opting to leave the original CSI, the slowly slipping, former number-one show. A month is quite a long time to find a replacement when you consider that the show will return to the airwaves in just over two months...but all you crime scene investigators out there no longer have to fret, they've found someone new to step in.
According to THR, Ted "Sam Malone" Danson will be making his return to network television after a few years shining on the cable side of things. Danson was fantastic in his role in FX's Damages, as well as in his comedic turn on HBO's Bored to Death (don't worry, he's doing double duty!). Danson will step into the groundbreaking police procedural...well, it was groundbreaking a decade and three spin-offs ago...as Laurence Fishburne's replacement and new team leader.
THR adds that "Danson, an Emmy and Golden Globe winner, will play the new CSI supervisor for the grave shift after heading the crime lab in Portland. He comes to the team as it is still grappling with the professional and personal fallout from last season." Talk about walking in on a tough crowd. Although I think it's past time for the show to throw in the bodily fluid-soaked towel (get out the blue lights), as long as the show remains number one in the world (despite its large domestic slide), they will likely keep pumping out episodes. And they could do a lot worse than Ted Danson.
In that respect, the show's exec producer commented on the casting:
Danson will make his debut on CSI's Season 12 premiere on Wednesday, Sept. 21st at 10 p.m. ET (CSI's new timeslot).
Your Daily Blend of Entertainment News
Thank you for signing up to CinemaBlend. You will receive a verification email shortly.
There was a problem. Please refresh the page and try again.