Teenage Dreaming Warbler Darren Criss In Talks To Become A Glee Regular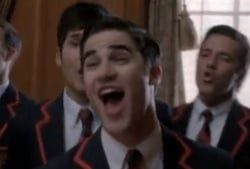 Last night's episode of Glee felt like a throwback to Season 1, with the story of underdogs and intolerance being brought to the forefront once again. One of the stand-out characters in the episode was newcomer Darren Criss and word is, he could be a regular on the series come Season 3.
Last night, Criss played Blaine, Daltan Academy Warbler and out-and-proud pal to Kurt. According to Deadline.com, Criss was originally signed on to play a recurring role but is now in talks to become a series regular, which would most likely happen when the series returns for its third season.
Below is the video of Blaine singing Katy Perry's "Teenage Dream" with his school's glee club, the Dalton Warblers. I'd personally love it if they did more a Capella style song adaptations. I can't stop watching this video!
And below are some photos of Gwyneth Paltrow's guest appearance in next week's "The Substitute" episode of GLEE airing Tuesday, Nov. 16 (8:00-9:00 PM ET/PT) on FOX.
Image 1 of 3
Image 2 of 3
Image 3 of 3
Your Daily Blend of Entertainment News
Thank you for signing up to CinemaBlend. You will receive a verification email shortly.
There was a problem. Please refresh the page and try again.