Terra Nova's Christine Adams Joins ABC's Americana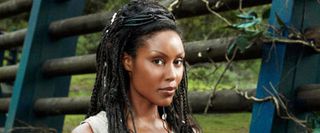 Before its ultimate cancellation, Terra Nova was on tenuous lines with Fox for several months while the network waffled over whether or not to allow the show to return next season. Because of this, it would not be remotely surprising if we learned many of the actors involved were exploring other options, which seems to be the case for Christine Adams, who has, less than a week after Terra Nova was officially canceled, landed herself a brand new gig.
Adams is headed to ABC to join drama pilot Americana, about a family fashion house that finds its whole world turned upside down when a new designer hits the scene. According to Deadline, Adams is set to play Sierra, a former supermodel and the wife of the fashion house owner. Since Adams' role on the show will be based more in beauty than in toughness, we should expect her acting to be a 360 from what we saw on Terra Nova, where Adams played the angry guerillla leader, Mira.
Major casting for Americana should be rounding up, with Anthony LaPaglia on board to star as the head of the fashion house, Robert Soulter, and Emilie de Ravin set to play the outgoing daughter in the fashionista family. Twilight's Ashley Greene is also on board for the pilot, as a new fashion designer shaking up the world of high fashion when added to the mix. With some big names on board, Americana is looking promising and adding Adams to the mix doesn't hurt one bit.
Your Daily Blend of Entertainment News
Thank you for signing up to CinemaBlend. You will receive a verification email shortly.
There was a problem. Please refresh the page and try again.