Fox Cancels Terra Nova, Showrunners Are Seeking A New Network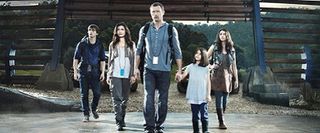 Sorry Terra Nova fans, but the show didn't make the cut. Fox has made an early decision to cancel the series, which was expected since it was aiming for a second season premiere in the fall. That's not going to happen, at least not on Fox, but showrunners are shopping for a new network.
Deadline reports that the show will not be on the Fox schedule for fall – or ever. In spite of a lot of effort put into trying to tweak the series for a second season, Fox has decided to let it go. But there is a glimmer of hope for the show – it's being shopped to other networks with the hopes that someone might want to pick it up.
The cancellation leaves some questions regarding Fox's fall lineup. With House gone and Terra Nova now also canceled, the network is down two dramas. They've got the new Kiefer Sutherland drama Touch set to premiere towards the end of the month, and they have to have high hopes for it, since Sutherland's been a hit-maker for them in the past. Meanwhile the future of Alcatraz remains up in the air. This opening might give that series a little more hope for another season, but it's not doing great in the ratings. There's also The Finder looking for renewal after it's freshman run, and of course we can't forget Fringe, which has been in negotiations for a renewal in spite of the fact that it's losing money.
Will Terra Nova find a new home? And if so, will fans follow the show and give it the ratings it will need to stay alive on another network? It may be a while before we get those answers, but some of the questions about the Fox drama lineup should start seeing answers soon.
Your Daily Blend of Entertainment News
Thank you for signing up to CinemaBlend. You will receive a verification email shortly.
There was a problem. Please refresh the page and try again.