Top Chef All-Stars: Power Rankings Week 1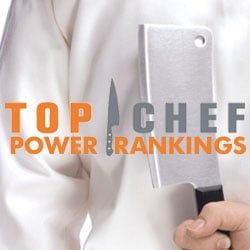 We're now just hours away from eighteen former Top Chef contestants reuniting for the Emmy winning reality show's first All-Star Edition. The Wednesday night staple has long been a personal favorite, and with only familiar faces in play this season, it seems a perfect opportunity to start a weekly Power Rankings Column. Weighing talent, performance in previous seasons and of course, current wins and losses, the Ranking system will be an intuition-fueled ordering powered by facts, personal biases and a weekly vote featuring myself, Cinema Blend writer Jessica Grabert and professional poker player and Top Chef enthusiast Brain Carraher.
Since their seasons initially aired, some of the chefs have gone on to bigger and better things while others have struggled or idled trying to start their own restaurants. Just how much the gap has widened between the have's and the have not's is pure speculation at this point, but as the first few weeks unfold, I expect the order to become quite a bit more clear.
But for now, it's all about the past. With no previous winners back and everyone having shined enough to be made an all-star, there are a few clear favorites, no less than ten chefs good enough to win it all and at least three or four more capable of making a deep run. Who falls where? Without further ado, here is TV Blend's first Top Chef: All-Stars Power Rankings…
The Favorites
#1) Richard Blais (54): Part executive chef, part chemist, Richard Blais rolled through season four like an unstoppable juggernaut, at least until he underperformed in the finale and somehow lost to Stephanie in what probably still ranks as the biggest Top Chef upset ever. Look for him to continue his consistent dominance.
#2) Tiffani Faison (51): The fiery redhead was a clear second best to season one's Harold, but he may very well have been the best chef we've seen. With a win during the special Top Chef holiday contest a few years back, Tiffani has the confidence and the swagger to compete the whole way here. Anything short of a run to the finals would have to be considered a disappointment.
#3) Marcel Vigneron (46): Arguably the most confrontational chef in the show's history, Marcel may have been a little foam-obsessed at times, but that didn't stop him from wowing countless guest judges. The Molecular Gastronomist regularly lent his complicated taste to classic staples, and one might expect he'd continue with the same strategy here. In all honesty, he may actually be more talented than the first two, but with his focus shifted to an upcoming cooking show on the SyFy Channel, it's unclear just how determined he might be.
The Contenders
#4) Angelo Sosa (43): Like Richard, Angelo ripped through the early part of his season and seemed destined to win the top prize, but after a few uncharacteristic missteps and a bizarre illness, his confidence noticeably rattled. In fact, he failed to win the final Asian-inspired Quickfire Challenge even though he was far more familiar with the ingredients than any of his competitors. Still, if he returns to form, his gutsy, high risk approach should net a lot of victories.
#5) Tre Wilcox (40): Despite putting up more Elimination wins than Season 3's winner and runner-up combined, Tre Wilcox found himself eliminated in eighth place after taking on a leadership role during the always grueling restaurant wars. Outside of Kenny's season 7 implosion and Cliff's season 1 boot for forcibly shaving Marcel's head, his early exit may have been the most puzzling. That being said, it still remains to be seen whether he can survive the rigors of a long season.
#6) Dale Talde (39): Another contestant that burned out a little too quickly, season 4's Dale Talde also put up 3 Elimination wins to go along with another 2 appearances in the Top 3, but was ultimately also undone by restaurant wars. Team challenges provided, we may get to see a few more epic partnerships between Richard and Dale where the two seamlessly bounce off each other like two hyper-confident masters of their trade.
#7) Stephen Asprinio (36): Just as talented as anyone ever to compete on Top Chef, Stephen's biggest problem is being too good at various other things. The Cornell-educated restaurateur is a world class sommelier and also writes articles on wine for various publications. Just how much he's been cooking lately is anyone's guess, but if he can avoid making the simple mistakes that come from being out of practice, he could go real deep.
#8) Tiffany Derry (34): Having the added advantage of competing on the last Top Chef installment, Tiffany was nothing short of brilliant during the latter part of season 7, finishing in the Top 3 six consecutive times before bowing out in fifth place. She has a certain straight ahead confidence about her that can frequently make you forget how dangerous she really is. It wouldn't shock me if she made the finals, but it also wouldn't shock me if she went home in a few weeks. Votes were actually all over the board for Tiffany, as she shot as high as 4 on Jessica's list and as low as 11 on mine.
#9) Dale Levitski (30): People forget just how close Dale came to beating Hung in the finale of season 3. By the judges' own admissions, he won two of the four courses during the finale, as well as putting up one dish Chef Tom said was too good to even think about changing. Still with four other contestants putting up more wins during his season, it's hard to consider him any better than ninth.
#10) Spike Mendelsohn (24): The third of four, season 4 contestants, Spike, on paper, should be rated a lot lower, but since his fifth place finish, he's gone on to open several very well-received restaurants including burger joint in Washington DC frequented by first lady Michelle Obama. Recently, he also partnered with celebrity chef Art Smith to work on the White House Easter Egg Roll. Smith, by the way, makes the best pizza in Chicago at his lovely TABLE fifty-two. That won't help Spike here, but maybe he picked up a thing or two.
The Dark Horses
#11) Casey Thompson (21): A distant third place in the Season 3 finale, Casey was all over the board during her first run through the competition. Going along with two Elimination and three Quickfire wins, she was in the bottom of the pack five times. You never know what to expect from her, which, I guess, is kind of the definition of a dark horse. I'd never take even money on her winning, but if someday gave me 15-1 that she'd make the finale, I'd think long and hard.
12) Jamie Lauren (19): Finishing seventh in one of Top Chef's weaker seasons doesn't exactly instill confidence, but when Jamie was on, she was more dangerous than anyone save Stefan from season 5. She piled up two Elimination wins and finished second twice more. Like some of the other contestants, Jamie's cooking has historically come and gone with her confidence. If she can build up some early momentum, a high finish could be in the cards.
#13) Jennifer Carroll (19): With only one win and four of her final five Elimination Challenge ending in the bottom three, it's hard to imagine Jennifer going toe to toe with Tiffany, let alone Richard, Marcel and other Tiffani. She's another one that struggled with serious confidence issues, but if her head is in the game, I'd expert her, unlike many of these later contestants, to actually put up a Quickfire win or two.
#14) Fabio Viviani (17): The most likeable and garrulous of all the all-stars, Fabio is a damn good chef. In fact, he's the private chef for William Shatner, as well as a product spokesman for several Italian companies, but still, it's hard to get past his fourth place finish on the extremely weak fifth season. It wouldn't surprise me at all to see him compete hard for a few weeks, but overall, I just don't see his style outlasting all these other great chefs.
#15) Elia Aboumrad (16): Probably most remembered for having shaved her head along with Cliff and Ilan, Elia was a bit spastic in her season 2 results. She won two consecutive Eliminations near the middle of the season but mostly sputtered out after that, finishing a clear and distant fourth. Still, the affable chef proved herself enough times to warrant our final position in the dark horse category.
The Happy To Be Heres
#16) Mike Isabella (12): With no wins and only two appearances in the Top 3, it's going to be a daunting task for the good natured, Jersey-born chef to stick around long. Still, these numbers might be selling him a little bit short considering Jennifer was the only person outside the Top 3 to win an Elimination challenge. Power Rankings voter Brian Carraher actually had Mike 11th on his ballet; so, he's not without his supporters. I'm not convinced, but this week should clear up some confusion.
#17) Antonia Lofaso (7): Very good, but rarely great, Antonia finished in the Top 3 an amazing six times in addition to her four Quickfire wins, but more often than not, it was more her consistency than a flare for excellence that kept her at the top of the pack. She's a lingerer. She might linger for a few weeks, but she's gonna have to show a lot more than she has to even make the middle of the pack.
#18) Carla Hall (5): Poor Carla got no love from any of the voters this week, but it's hard to rank her any higher than last. Yes, she won three times and made the finale, but for the most part, her cooking was unpolished, nice flavors without any finesse. That might be enough to slide you by Hosea's lady friend Leah, but the competition is a little more stacked here. Making it even halfway would have to be considered a big victory.
Here's a look at how each of the three ballots shook out:
Swipe to scroll horizontally
Mack:
1. Richard (18)
Tiffani (17)
Marcel (16)
Angelo (15)
5. Tre (14)
Dale T (13)
Stephen (12)
Dale L (11)
Spike (10)
10. Casey (9)
Tiffany (8)
Jamie (7)
Jennifer (6)
Elia (5)
15. Fabio (4)
Antonia (3)
Mike (2)
Carla (1)
Brain:
1. Richard (18)
Tiffani (17)
Angelo (16)
Stephen (15)
5. Marcel (14)
Dale T. (13)
Tre (12)
Tiffany (11)
Spike (10)
10. Dale L (9)
Mike (8)
Jamie (7)
Casey (6)
Fabio (5)
15. Elia (4)
Antonia (3)
Jennifer (2)
Carla (1)

Jessica:
Richard (18)
Tiffani (17)
Marcel (16)
Tiffany (15)
Tre (14)
Dale T (13)
Angelo (12)
Jennifer (11)
Dale L (10)
Stephen (9)
Fabio (8)
Elia (7)
Casey (6)
Jamie (5)
Spike (4)
Carla (3)
Mike (2)
Antonia (1)
Your Daily Blend of Entertainment News
Enthusiastic about Clue, case-of-the-week mysteries, the NBA and cookies at Disney World. Less enthusiastic about the pricing structure of cable, loud noises and Tuesdays.