Top Chef Power Rankings: Questlove And College Students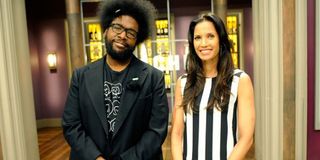 Did you know Questlove is a big time foodie? Apparently the beloved Roots drummer owns his own restaurant and always makes dining a major priority wherever he's at, which considering he works as a professional musician is all over the world. For this week's quickfire challenge, the big man showed up and asked the chefs to put a spin on one of his favorite proteins: the drumstick.
The results were a mixed bag. Nicholas's quail lollipop was oversalted. Justin's drumettes weren't outside the box, and Carlos' goose leg had a shard of bone in it. On the bright side, Carrie knocked her squab dish out of the park, Nina's game was very well cooked and Brian's soup was an outside the box winner. In the end, Carrie was given the win, which weirdly wound up having a huge effect on the elimination challenge.
For this week's big event, the chefs were asked to serve 500 freshman at LSU in one of the college's cafeterias. Because of the way the kitchen was set up, each of the stations were very different, and as the immunity winner, Carrie volunteered to take whatever station was leftover, which meant she got stuck making cold food. Shirley also got stuck, in her case with the pizza station, but her results turned out far better. The judges loved her decision to put her tomatoes inside the wood burning oven worked perfectly alongside her roast beef, and she ultimately took home the victory, narrowly outpacing Carlos and Brian who also put their best feet forward.
As for the bottom of the pack, the walks of shame went to Justin (again!), Nina and Stephanie. None of their dishes were exactly bad, but all of them had their share of mistakes. Justin's food was too bland and didn't necessarily make sense in a cafeteria. Nina's fried chicken came with a corn side that was horrendous and Stephanie decided to put her sandwich in the soup and that caused it to get texturally weird. In the end, Justin's blandness was apparently the biggest problem and he was sent packing.
The Top Chef Power Rankings are an ordered compilation of weekly lists put together by TV Blend writers Jessica Rawden and Mack Rawden. Each week after viewing the episode, they each rank the competitors in order. Nineteen points are given for a first place vote, and this week, thirteen were given for a last place vote. Twelve competitors have already been eliminated; therefore, those people automatically occupy the bottom slots. Here is how this week's voting panned out, complete with analysis on how the contestants might fare moving forward.
The Favorites
#1) Nina Compton (38): Nina found herself singled out in the quickfire and came within inches of winning immunity, but in the elimination challenge, it was an entirely different story. The corn component to her dish was a disaster, and had Justin been a little bit better, it's entirely possible the most talented chef this season could have gone home. Hopefully she uses this narrow escape as a reminder not to plate any component that doesn't work.
#2) Shirley Chung (35): Shirley is a great chef. She's consistently been on the top in both quickfires and eliminations throughout the season, and she has a unique ability to adapt to the weird conditions she's facing. This week, she wanted no part of the wood-burning oven, but she sucked it up and made the best of the situation. Those skills will serve her very well moving forward.
#3) Carlos Gaytan (34): Carlos didn't have a very good week in terms of getting along with his fellow competitors. They were really pissed about him claiming Nicholas "stole" his oven, when really, he should have said, "We ran out of ovens". Luckily, he did have a pretty good week cooking wise, which is the name of the game. His fish was singled out as one of the best elimination dishes, and he came within a fin of winning.
The Contenders
#4) Nicholas Elmi (31): Nicholas came back down to Earth a little bit after a few incredible weeks in a row. His quail was oversalted in the quickfire and his elimination challenge dish was largely greeted with mehs. Luckily, said elimination dish was better than three of his opponents; so, he ended up in the middle of the pack and will fight on another day.
#5) Carrie Mashaney (30): Carrie took home the quickfire title this week, and as such, she decided to let the other chefs choose their work stations before her. At this point in the competition, that was the right thing to do, but even with the disadvantage, she should have come up with something better than broccoli and sauce. That's like first week of culinary school shit.
#6) Brian Huskey (29): Brian is good. On any given week, he has the capability of competing with any single person in this competition. What he lacks, however, is consistency. So, while I certainly wouldn't say he has no chance of winning the whole shebang, it's hard to imagine him getting through the rest of the competition without making a blunder serious enough to send him packing.
#7) Stephanie Cmar (24): Everyone left is good. We're long past the point of eliminating people who can't hack it. Everyone left should be very proud of themselves. More importantly, everyone left has the capability of making something extraordinary, but Stephanie really hasn't shown the ability to wreck multiple challenges in a row, and that's what she would need to do to advance to the finals.
Mack:
Nina Compton (19)
Shirley Chung (18)
Carlos Gaytan (17)
Carrie Mashaney (16)
Nicholas Elmi (15)
Brian Huskey (14)
Stephanie Cmar (13)
Jessica:
Nina Compton(19)
Carlos Gaytan (18)
Shirley Chung (17)
Nicholas Elmi (16)
Brian Huskey (15)
Carrie Mashaney (14)
Stephanie Cmar (13)

Photo Credit @ Bravo
Reality TV fan with a pinch of Disney fairy dust thrown in. Theme park junkie. If you've created a rom-com I've probably watched it.
Your Daily Blend of Entertainment News
Thank you for signing up to CinemaBlend. You will receive a verification email shortly.
There was a problem. Please refresh the page and try again.