Torchwood's John Barrowman Joins ABC Pilot Gilded Lilys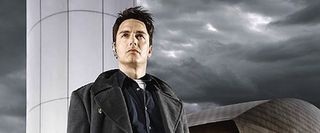 While the fate of Torchwood seems uncertain at this point, we may be seeing John Barrowman back on television soon enough, should things go well for the Shonda Rhimes executive-produced ABC pilot Gilded Lilys.
Written by K.J. Steinberg, Gilded Lilys is set in 1895 and follows the drama taking place as New York's first luxury hotel is about to open. TV Guide shared the casting news, stating that Barrowman will play Julius Ashford Lily, a member of the central family in the story.
Barrowman is well known to Doctor Who and Torchwood fans for playing the role of Captain Jack Harkness in both series. Given the time-traveling nature of Doctor Who and Jack's history, Barrowman's not exactly a stranger to playing a role from a different era. It's also not difficult to picture him playing a man described as "mama's favorite son, who's very charming, lucky and loose."
?While I'm hopeful that we haven't seen the last of Jack Harkness as a character, and that Torchwood will return in some form or another at some point down the line, the prospect of getting to see the especially talented John Barrowman in a new role is certainly exciting, even if it means seeing him without Harkness' trademark trench coat. We'll have to wait and see how things go for Gilded Lilys.