Trailer: Blade The Series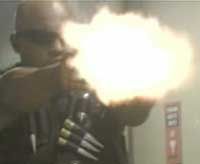 Blade is coming to Spike TV as a weekly television series, and no, Blade is not being played by Wesley Snipes. Instead, they've cast a scrub, stuck him in a Blade outfit, and started cranking out episodes. The first trailer for the impending TV series is out
The first trailer for the impending TV series is out, and if this is any indication of what the series is actually like, it should be perfect for Spike. It's big, dumb, and poorly acted. Most of the plot seems to consist of violence, boob groping, and Randy Quaid. Yes that's right. Randy Quaid.
You'll have to see the trailer to believe it. I haven't seen acting this bad since Pam Anderson's "V.I.P."
To watch the trailer, visit the folks at Comic Book Resources by clicking here.
For those of you not interested in downloading something so god awful onto your computer, I've dropped a few screencaps from the trailer below this article. Enjoy… I guess.
Your Daily Blend of Entertainment News