True Blood Comic Con 2012 Panel Live Blog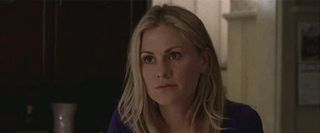 Season 5 of True Blood is underway on HBO this summer, and at SDCC, fans have rallied to celebrate the vampire drama series at the True Blood Panel here in Ballroom 20. The cast of the series is set to be featured and maybe we'll even get a look at what's ahead for the remainder of Season 5.
Based on the description for the panel, we're in for a packed line-up of cast members. Among them, Ryan Kwanten (Jason Stackhouse), Sam Trammell (Sam Merlotte), Rutina Wesley (Tara Thornton), Nelsan Ellis (Lafayette Reynolds), Deborah Ann Woll (Jessica Hamby), Kristin Bauer van Straten (Pam Sqynford de Beaufort), Joe Manganiello (Alcide Herveaux) and Chris Meloni (Roman Zimojic). Creator Alan Ball and stars Anna Paquin, Stephen Moyer and Alexander Skarsgard are mentioned in the description but not specified to be in attendance for the panel. I'm going to assume some - if not all - of them will make an appearance but we'll have to wait and see! In the meantime, hit refresh and wait for updates. It's starting soon!
The panel will start in about fifteen minutes (4:30 p.m. PST) so stick around and hit refresh! We'll start updating once it begins!
Wifi seems to be spotty. I'll do my best to update as much and as fast as I can!
4:35 - Ok, we're staring things off just a few minutes late! The panel starts with Alan Ball who is introducing a trailer for the coming weeks (includes footage from previous episodes). Looks like something's being done with Sookie. Shown in the field. Eric talking to her as though she's going to forget everything. Glamouring her memory? Feud between the shifters and those guys killing sups. Russell laughing. Eric drinking. Russell getting up to some major mischief, Jessica looking tearful and worried. Lafayette in some kind of sayance? Nora looking like she's frying. Someone sinking their fangs into Sookie. There was more than that shown (lots of fun glimpses) so hopefully HBO will post that video online soon!.
4:39 - Moderator Tim Stack inviting the cast out on stage. Joe Manganiello is first. Crowd is very loud right now! Ryan Kwanten is next. Wearing a snug fitting fitted white shirt. Deborah Ann Woll, then Sam Trammell, Rutina Wesley is next (lots of cheers for her) looking beautiful in a white dress. Christopher Meloni came out next. Akexander Skarsgard, Kristin Bauer van Straten, Stephen Moyer and of course, Anna Paquin! She's looking pregnant and smiling.
4:42 - Moderator asked Ball about mixing things up with the relationships. Ball says they're always looking for ways to put new combinations of actors together. Stack brings up Rutina and Deborah (Jessica and Tara). Rutina says it's fun to get to play with people you haven't played with. And she's having fun being a new baby vamp. Deborah says "girls will be girls" in response to being asked about the fight between Jessica and Tara after last week's episode (when Tara was feeding off Hoyt).
4:44 - Talking about the bromance between Eric and Bill. Stephen says this is something Bill and Eric have to do together. He thinks there's something from their history that we haven't seen yet. Skarsgard says the original scene in the trunk was six minutes long. Stephen says they couldn't do it without laughing (being crammed in a trunk together). Ball brought up the dire stakes of the situation.
4:47 - Talking about Pam's wardrobe. Particularly her Walmart sweatsuit (she wore it the night she made Pam). Kristin says she sees someone in a Walmart sweatsuit in the front row (Wish I could see them! I was hoping someone would show up here dressed as maker-Pam). Kristin talking about a rack of Walmart sweatsuits. The yellow one was the first one they tried on. They had it tailored to be a little short with elastic around the legs. Sam talking about some red outfit Pam wore seasons ago (red sequined jump suit). Trammell talking about the one scene he did in Fangtasia. That was his favorite outfit.
4:50 - Now we're onto Tara's outfits. Since becoming a vampire, she's exploring her "more leathery side." Rutina credits Pam for changing Tara's wardrobe. Rutina says it's been fun. And the conversation just switched to Joe Manganiello as a stripper (Magic Mike reference!). He got up and pretended to strip (this included an excellent little dance). Rutina was asked to do a body roll, which lead to someone asking Alan Ball to do one. He got up and did it, prompting Manganiello to walk down to the other end of the table and drop some cash down in front of Ball. Funny stuff!
4:53 - Talking about Sam's lady troubles. Trammell won't say whether last Sunday was the end of Luna. He won't even confirm that he survives the episode. He does say that Sam saw Emma change into a wolf and that will come into play.
4:55 - Kwanten practiced a lot for Rock Band scene a couple eps back, except he ended up practicing the wrong version of "Cherry Bomb." Woll practiced a lot, but Woll thought they weren't supposed to be good. They were supposed to be just like kids playing Rock Band (makes sense). Ryan and Deborah have good things to say about one another. Topic change to Steve Newlin. Ball says he's not sure it was a conscious decision to make Newlin gay. He thinks the energy was sort of there back in Season 2.
4:57 - Chris Meloni asked about SVU. "Trying to figure out what's a sex crime on this series is very different," Meloni says. "There are more fangs..." He says it's an interesting world to inhabit as an actor. He's never even heard of a were-panther. Talking about staking the young vampire. Meloni joking that he wanted it to be the kid who was the first Authority vampire to go. Says his wife was watching the show. She thought it was "so obvious" that it wouldn't be the kid. Meloni says staking someone was "pretty much the one thing" he wanted to do. He thought he was going to be stuck monologuing all the time. The kid didn't actually explode.
5:00 - Anna won't say if there are any faery throw downs. Alan says we'll learn more about the Stackhouse parents. "We're going to learn a little bit more about Michelle and Corbett Stackhouse and what happened to them, and the effect of what happened to them - the remaining effects on Sookie and particularly on Jason," Ball says.
5:02 - Ball talking about faeries. Talking about coming up with a way to bring them into the story. They decided they'd be very sensual. They decided to make it a club where faeries sort of hung out and had a good time, and invited humans to join them. That includes "having their way with humans." They wanted a visual look that didn't feel like the Disney faeries. They wanted more sensual, "soft-core porno faeries."
5:04 Joe says he "sexually eviscerates" one of the characters in an episode coming up. Ball says lots of sexy scenes coming up. Moyer is directing an upcoming episode. He got to see Joe naked. He says directing the episode was fun. Anna says Moyer's amazing. Anna says she felt like a widow for a month because Stephen was so busy working on the episode. So much goes into directing the show. Sounds like it's very time consuming. Skarsgard has good things to say about Moyer as director. Kristin is equally complimentary.
5:07 - Moyer talking about letting everybody play and have fun and "do something we haven't done before." He says when he saw bits of his episode in the trailer and it's a very "unusual and kind of wonderful feeling." He says he absolutely adores Sam Trammell. Says he's am amazing actor. Trammell has one of the most impossible jobs on Moyer's episode. It's a scene with another actor. "Very, very tough stuff." Trammell says it was really fun. No one's giving up any details! Trammell says he has no idea how Trammell managed to direct and act and be prepared for future episodes. Moyer says he'd love to direct again. Sounds like it took him three seasons to get Ball to say yes to let him direct.
5:11 - Stack brings up people wanting Skarsgard to be in Fifty Shades of Grey. Lots of cheers for that. "I gotta read that," Skarsgard says. He hasn't read the book or seen a script. He's talking about Eric and Pam's torture room. Topic switches to Pam and Eric's back-story. Kristin says it was so much fun. "Also, my making. I thought the writing was so brilliant," she says. Skarsgard says it was really nice to have a couple scenes with Kristin, since he's been so busy with the Authority. Kristin is tearing up while they're talking about Eric releasing Pam. She says she cried at the table-read and rehearsal. Kristin says they're very lucky to work with people they like. It was easier for the release scene to be emotional. "I just think of Alex." She says it was lucky he was her maker. Awww.
5:15 - Rutina says she gets to recreate Tara, "but keep the essence of Tara." She was a little off at first. "Having Pam as a maker to look after her and sort of show her the ropes, she sees a different side of Pam." She says it warms her. Ball says they considered the idea of turning someone who really hated vampires (comparing to when Jessica was turned).
5:17 - Talking about the tanning bed scene. Rutina says she kept passing mirrors and jumping when she saw herself in her burned-up tanning bed make-up. Kristin says it was fun to be rotting last season and give up vanity. She likes that stuff (for three weeks).
5:20 - Fan asks about the weretiger from Book 5 and John Quinn (hope I got the name right. I don't read the books). Alan Ball says no plans now but the writers taking over the show may choose otherwise.
5:22 - Meloni says there's no bad blood between himself and SVU. Fan asks about romances and asks for Skarskard's name card. He licks it and is bringing it down to to her. He signed it first. That's probably a very happy fan right now.
5:24 - Ball says there are three new romances this season!
5:25 - Fan asks about the faery war from the book sereis. Ball says there's at least one (possibly two) more season. He says there's a chance of that but he won't be involved in making those decisions. Hope there aren't any more questions about the future of the series beyond Season 5, since Ball doesn't seem to know much about that (he's stepping down as showrunner after this season).
5:27 - Someone asked Alex to flex, which he didn't do but the conversation turned to Joe flexing and then eventually Ryan doing a handstand. It looks like that's actually going ot happen. Ryan Kwanten just did a handstand on stage, then walked on the stage, then it looked like he nearly tripped on his way back to his seat.
5:29 - Last question! Fan asks what has been the most memorable scene or episode to film. Manganiello says his favorite scene was Valentine's Day, making a Sookie sandwich with Alex. This season, Episode 10 is a very memorable one for Deborah Ann Woll! (She doesn't say why, but now I'm intrigued!) Kwantan says getting to wear the He-Man onesie. (Yes!) Anna says the last scene of the last episode. Guess it's going to blow us away! Obviously she can't say what happened. Skarsgard says the Godrick death scene. Applause for that. Kristin says her most memorable scene was being released. Moyer says the episode coming up is an Alan Ball episode, and Episode 12 is an Alan Ball episode - their last Alan Ball episode. Moyer calls for applause to say thanks to Ball. Ball looks sincerely touched. Covers his face with his hands and then smiles with gratitude.
And that's where it ends!
Assistant Managing Editor
Kelly joined CinemaBlend as a freelance TV news writer in 2006 and went on to serve as the site's TV Editor before moving over to other roles on the site. At present, she's an Assistant Managing Editor who spends much of her time brainstorming and editing feature content on the site.
Your Daily Blend of Entertainment News
Thank you for signing up to CinemaBlend. You will receive a verification email shortly.
There was a problem. Please refresh the page and try again.