True Blood Comic Continues Trend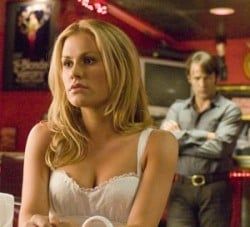 Hey, HBO! As long as you're giving True Blood its' own comic, why not look to some of your other series as well. I'd love to see Carnivale continue as a comic; the creators still had four seasons worth of stories to tell. The comics will allow creators to tell stories set in the world of the TV series without the budget restrictions that come along with it.
The same has already been done for the likes of Buffy the Vampire Slayer, Angel, Farscape and Jericho; each have continued their series beyond cancellation and into the comics. Like True Blood, though, Fringe and Supernatural have comics running concurrently with their successful TV iterations.
It's a growing trend in television to look to comics, the most similar print medium, to expand their world, or continue their shows beyond death. It's an interesting tactic by the comic book industry, which is but a shadow of what it used to be decades ago, to try and lure fans into comic shops who might not otherwise be interested.
The True Blood comics will also be released digitally, per Sci Fi Pulse, another growing trend in the comic industry. This will allow fans who don't have easy access to a comic book store, or perhaps who wouldn't be inclined to traffic one, to still get the print adventures of Sookie, Bill and the rest of the gang.
The first six-issue mini-series has the group waiting out a storm in Merlotte's bar, only to find out there's an entity feeding off of raw emotions picking them off one by one. Priced at $3.99 per issue, the series is slated to premiere in July. The forthcoming third season of the show premieres June 13, 2010 on HBO.
Your Daily Blend of Entertainment News
Your Daily Blend of Entertainment News
Thank you for signing up to CinemaBlend. You will receive a verification email shortly.
There was a problem. Please refresh the page and try again.