True Blood's Crazy, Naked, Bloody Rolling Stone Cover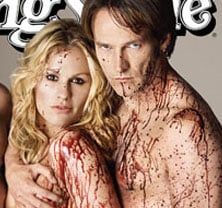 It's no secret that True Blood is pretty much non-stop, R-rated content. Half the fun of the first season was in wondering what ridiculous, crazy sexcapades Sookie's brother Jason Stackhouse would end up engaged in next. The show's a cavalcade of boobs, butts, and blood and that's good. But does all of that belongs on the cover of Rolling Stone?
The latest issue of the magazine will feature True Blood on the cover, and rather than go with the usual assortment of vampire about to bite girls neck images most often associated with advertising the show in polite society, they've taken Alexander Skarsgaard, Ann Paquin, Stephen Moyer and stripped them naked. Then they pressed them together into an erotic position, doused them in blood, and apparently plan to put this on magazine stands. I can't imagine Wal-Mart will like this. But you will.
Take a look, but stop scrolling if you're not nudity friendly because this probably isn't entirely safe for work:
The cast of True Blood isn't the first to pull off Rolling Stone cover nudity. Janet Jackson infamously appeared on the magazine's cover topless, with a man's hands reaching around covering her nipples. And there was an issue not long ago where you kind of sort of saw Jennifer Aniston's uncovered crack. And the Chile Peppers did Sock Man, without the socks. But I don't think there's ever been anything on the magazine on quite this scale. I imagine it'll be shipped with one of those ominous, black covers usually reserved for Playboys hidden behind the counter at your local gas station.
The cover will appear on the September 2, 2010 issue of Rolling Stone, presumably accompanied by an article to go with all the pictures. But you'll probably just look at the pictures.
Your Daily Blend of Entertainment News
Thank you for signing up to CinemaBlend. You will receive a verification email shortly.
There was a problem. Please refresh the page and try again.