Turner Fined By FCC Over Conan Ad That Used Emergency Alert Tone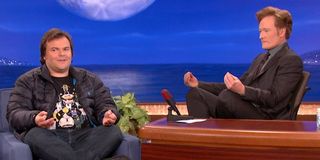 Oftentimes when we hear that a network's been slapped with an FCC fine, it has something to do with content that slipped past the censor or was too explicit in some way or another. But that's not quite the case for Conan's latest brush with the Federal Communications Commission. The late night cable talk show received a $25,000 fine from the FCC for using a certain tone in an ad promoting Jack Black's appearance on the series last year.
And by "tone," I don't mean general mood or setting, but an actual, audible tone. in the case of this ad, it's the same tone used in those emergency weather broadcasts, and that's apparently a big enough violation to warrant $25k fee. Variety posted the details, stating that Conan — or more specifically, Turner Broadcasting — was fined by the FCC for using emergency alert sounds to promote the series. The promotion in question was for an episode in April of 2012 in which actor/comedian Jack Black was appearing. Apparently, Conan was so intent on getting people's attention that Black was appearing on the show that they thought using emergency weather tones (or something that sounded like that) would do the trick. Whether or not it got viewers' attention we couldn't say, but it certainly got the FCC's attention.
Variety says TBS's explanation for the misstep was that they produced the spot in such a tight timeframe that they weren't able to submit it to standards and practices for review. The Conan ad isn't the only situation under investigation for using the tone, so it sounds like this is something the FCC's taking pretty seriously, and for good reason. It might seem like a harmless infraction to use that annoying tone in a commercial, but if we're all conditioned to recognizing it as an emergency sound, it's probably best if it isn't used in ads and anything else that we might otherwise eventually start to tune out.
While I'm sure Turner isn't laughing over the thousands of dollars they'll have to pay to make amends for the infraction, it seems like good material for a joke if the Conan writers can come up with some other banned sounds they're also not allowed to use in ads. Like, perhaps the sound of a doorbell, which might send viewers' dogs barking and running toward the door…
Conan airs weeknights at 11:00 p.m. ET on TBS.
Kelly joined CinemaBlend as a freelance TV news writer in 2006 and went on to serve as the site's TV Editor before moving over to other roles on the site. At present, she's an Assistant Managing Editor who spends much of her time brainstorming and editing feature content on the site.
Your Daily Blend of Entertainment News
Thank you for signing up to CinemaBlend. You will receive a verification email shortly.
There was a problem. Please refresh the page and try again.