Two And A Half Men's Chuck Lorre Inks New Deal With Warner Bros.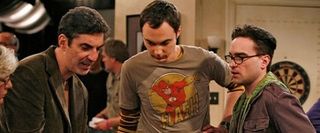 Warner Bros. has locked in their comedy guru for another four years. Chuck Lorre has been aligned with the company for 12 years already, producing such hits as Two and a Half Men and The Big Bang Theory, and today the man has resigned for another extended period. There's more than comedy, though, under this new deal.
Lorre, who joked that his relationship with WB TV will now last "longer than either of my marriages", signed a four-year extension to his existing deal that will see him working not only on comedies, but in new drama and other long-format projects as well. Two of Lorre's series, Big Bang Theory and Two and a Half Men were the number 1 and number 2 comedies on network television in total viewers in the 2011-2012 season, and both are syndicated as well, making Lorre a major presence on television. He's also behind Mike & Molly, which ranked at number 4 for the 2011-2012 season; that means he's got 3 of the top 4 shows on network television. No wonder Warner Bros Television wants to keep him. Warner Bros Television President Peter Roth made the announcement.
Lorre will also be staying on board to executive produce his current hits. In addition to his television work, the man also has a book coming out featuring his end-of-show vanity cards. The coffee table book, What Doesn't Kill Us Makes Us Bitter, is due to be published next month with all of the proceeds set to go to the Dharma-Grace Foundation. The Foundation, created by Lorre, supports the Venice Family Clinic in California, which provides free medical care, among other similar worthy causes. So, he's not just gifted with comedy skills, he's a pretty decent guy too.
Your Daily Blend of Entertainment News