Ugly Betty's Becki Newton Lands Recurring Role On How I Met Your Mother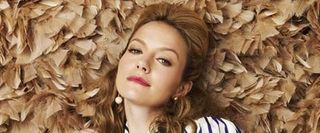 Cinema Blend has not heard much from Becki Newton since she led Love Bites, a 2011 summer comedy focusing on two single women and love. Since her NBC series was cancelled over the summer, Newton has been remarkably absent from television, only managing to nab a role in an as yet-unaired Jeff and Jackie Filgo TV movie. Luckily, the Ugly Betty actress will pop up again very soon, this time on a different network. Newton will be heading to CBS to fulfill a recurring role on How I Met Your Mother.
If you were hoping Newton would be playing Ted Mosby's future wife, we are not nearly far enough in the series to encounter such luck. Currently, there is not much word on Newton's character, other than she'll be called Quinn and she will appear as a new love interest for Barney. According to Zap2It, Quinn won't appear on HIMYM until January. Given Barney recently broke up with the woman he was dating, the timing could mean Newton's stint will be more important than the average woman in Barney's life.
Since Newton's role is recurring, it seems likely she might be a legitimate flame for Barney. With the whole Barney and Robin on again, off again plot line, I'd be interested to see if Quinn manages to shake things up. Maybe she'll just be a one off to help Barney recuperate after Nora, but I would love to see her stick around in 2012. Someone give this woman a lengthy series role, please.
Your Daily Blend of Entertainment News
Thank you for signing up to CinemaBlend. You will receive a verification email shortly.
There was a problem. Please refresh the page and try again.