Ultimate Spider-Man Swinging To Disney XD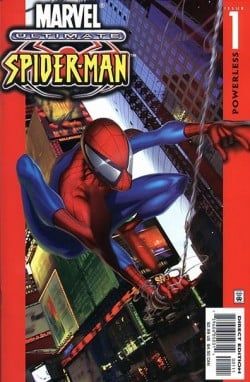 Comic fans have been wondering for awhile how Disney's acquisition of Marvel Comics might impact their presence on television and in the films. It looks like a positive early step, with Slice of SciFi reporting that Ultimate Spider-Man is being adapted into an animated series for Disney XD.
About ten years ago, superstar comic writer Brian Michael Bendis launched Ultimate Spider-Man, which was a dramatic retelling of Spider-Man's origin and early years as if they were set in the modern era. Set in the "Ultimate Universe," there were differences between the classic Spider-Man in the details, but at its core he was the same insecure, nerdy Peter Parker. The series continues today, still under the pen of Bendis.
What made Ultimate Spider-ManM stand apart from the very beginning, was Bendis' brilliant use of dialogue. In a format most known for over-the-top action and superhero battles, Bendis was willing to slow the action down tremendously, and have entire issues based around conversations and social interactions. What that did was humanize this Peter Parker even more, and it's that aspect of him that I hope makes it to the small screen.
"Ultimate Spider-Man will be a unique journey exploring our favorite web-slinger as he teams up with other fan favorite Marvel superheroes in never before seen stories with a new life filled with great challenges, new friends, intense action and character growth," said Eric S. Rollman, president of Marvel Animation.
I hope that doesn't mean it will be formatted more like Cartoon Network's Batman: The Brave and the Bold, which is basically a Batman Team-Up book. I'm all for Spidey mixing it up with the Marvel Universe, but if you're going to use the Ultimate Spider-Man name, there's going to come an expectation of sophistication and care with the characterizations.
While not made official, it is likely that this means Disney XD's current web-slinger project, Spectacular Spider-Man, will be laid to rest, despite being a solid show in its own right.
Your Daily Blend of Entertainment News