VH1 And Dr. Drew Take Celebrities To Rehab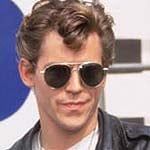 Dr. Drew Pinsky, best known for co-hosting the call-in advice show Loveline, and VH1 have teamed up for a new reality series called Celebrity Rehab With Dr. Drew, which will debut on the network on January 10th. Dr. Drew, who has worked with celebrities such as Scott Weiland and Danny Bonaduce, will be putting eight stars through an intensive 21-day program to help them shake their various addictions.
Many of the names on list of rehabbers are no strangers to fan of other VH1 Celebreality programming. The cast of the show includes former Surreal Lifeers Chyna, Brigitte Nielsen, and infamous Celebrity Fit Club member (and former Taxi man) Jeff Conaway. It is Conaway's participation on the show that has caused the most controversy. Video footage of the former sitcom lead snorting a line of some powdered substance in his home was leaked to the internet this week, making critics question if VH1 had gone too far. Others subjecting themselves to Dr. Drew's program is actor Daniel Baldwin and porn star (and one-time political candidate) Mary Carey.
The show will follow the celebs as they go though group therapy, as well as one-on-one sessions with Dr. Drew and other addiction specialists and counselors. They will not be staying in one of those fancy Malibu rehab places you hear about Mel Gibson and Lindsey Lohan going to. This is a real, no-frills facility, where the cast members are treated like every other patient. For some of them, that shouldn't be a change from their every day lives, if you look at the cast list.
Some critics are saying that VH1 is exploiting people's real problems for entertainment purposes. But there is one thing this show has going for it that proves that theory is false: Dr. Drew himself. I don't think he would risk his reputation as an addiction expert for just an eight-episode television show. In fact, he only got this show because his helpful rehab advice had been featured on shows he had no involvement in before. I think that he knows that not only can this show help the D-Listers hired, but also people at home who might be going through the same thing. Dr. Drew said, "The road to sobriety is not easy and rehabilitation and the recovery process are not to be taken lightly. My goal is to lift the veil and help my patients, as well as viewers, understand that if not taken seriously, addiction is a disease that will kill you."
Unfortunately, sometimes the only way to get a message through to a large audience is under the umbrella of entertainment and this could be a way to really show how hard fighting drug and alcohol dependency can be. Whether it's fighting for a political cause or raising awareness, the power of celebrity can't be denied. And if the only way for some of these sub-par stars to get back on TV is to show them cleaning toilets while detoxing, at least it might do some good in the process.
Your Daily Blend of Entertainment News
Thank you for signing up to CinemaBlend. You will receive a verification email shortly.
There was a problem. Please refresh the page and try again.