VH1 To Replace Celebrity Rehab With Celebrity Couples Rehab Show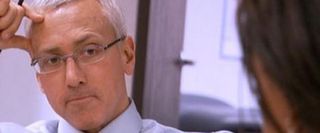 VH1's Celebrity Rehab had its ups and downs. Mostly downs, but in that strange way that a down could be an up for viewers. For instance, I would argue the season featuring Andy Dick was both a high and low point for the show. Unfortunately it was canceled way back in June, and that seemed to be that. Of course, why cut out a crappy program when there is money to be made?
At least, that's VH1's logic, although with Dr. Drew Pinsky out, the network has a long way to go in terms of finding a new doctor spokesman and a new premise for a Celebrity Rehab-esque program. Short of creating new episodes of Rehab and titling them something else, I don't where else VH1 can go with a similar premise. They've already created Sex Rehab with Dr. Drew and Celebrity Rehab Presents Sober House. Where else is there to go with quasi famous addicts?
According to TMZ, instead of focusing on celebrity addicts, VH1's new show will be structured around helping celebrity couples work through their problems. The couples will enter therapy and will work out issues via a nationally televised forum. Something tells me if Ashton and Demi truly do have issues, we won't be hearing about it on VH1. Doug Hutchinson and Courtney Alexis Stodden on the other hand…
Unsurprisingly, VH1 is currently mulling over Relationship Rehab as a possible name. It does have a nice ring to it, but I am really more in favor of How To Love Without Fame.
Your Daily Blend of Entertainment News
Thank you for signing up to CinemaBlend. You will receive a verification email shortly.
There was a problem. Please refresh the page and try again.