Veep Renewed For Season 3 On HBO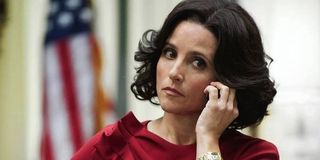 Good news for fans of HBO's Julia Louis-Dreyfuss fronted comedy Veep: Season 3 is officially on the way. HBO has renewed the series for another season with ten new episodes to air next year. The news comes only a few episodes into the currently-airing second season, which premiered on April 14th.
Veep kicked off its second season with lower ratings than its Season 1 premiere, but Deadline notes that it just hit a season high for ratings this past weekend.The renewal follows only a few days on the heels of those numbers.
Certainly Veep has been no slouch for HBO; it came out of the gate strong last spring, and earned Julia Louis-Dreyfuss an Emmy for her role as Vice President Selina Meyer. It also made not only our list of 2012's best comedies but of the best new shows of the year overall. The early ratings for the second season probably didn't really put Veep in any serious danger, but the increasing numbers since have most likely helped cement things. A show that starts off with a great first season always has a lot to live up to when the sophomore season comes around, and a little slump in the ratings is unlikely to be a big deal for a show that has had so much success.
Veep also stars Tony Hale Anna Chlumsky, Reid Scott, Matt Walsh and Timothy C. Simons among others. Season 2 is currently airing Sundays at 10 p.m. EST on HBO.
Your Daily Blend of Entertainment News
Thank you for signing up to CinemaBlend. You will receive a verification email shortly.
There was a problem. Please refresh the page and try again.