Veronica Mars Fans Take To The Streets To Save The Series Once Again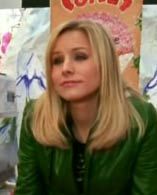 Those pesky 'Veronica Mars' fans are at it again! Last year when the show was in danger of cancellation, an internet fan group called Cloud Watchers hired a plane to fly over the CW network headquarters carrying a banner which stated simply "Renew Veronica Mars." The show was indeed renewed for a third season. Once again, 'Mars' is in jeopardy of being dropped by the network after the third season ends and with that, Cloud Watchers has returned in full force. This time rather than begging the network to show mercy on 'Mars' once more, the group is hoping to boost the ratings for the final five episodes by papering a handful of major cities with flyers encouraging people to watch the show.
This past weekend, professional street teams distributed 30,000 flyers in New York, Los Angeles, Philadelphia and Chicago inviting people to tune in to this week's episode of 'Veronica Mars.' After an eight-week hiatus, new episodes of 'Mars' will start airing this week. Prior to the hiatus, the second story arc of the season was resolved leaving five more stand-alone episodes to close out the season starting this Tuesday (May 1st) at 9 PM on The CW. Because they are stand-alone episodes, this really is the perfect opportunity for new viewers to tune in and see what all the fuss is about. Improved ratings could certainly help keep 'Mars' on the air.
Meanwhile, the show's creator, Rob Thomas, is about to pitch a re-imagined version of the series to the network in the hopes that The CW will renew the series for a fourth season. Currently, the title character is a college student who works part-time (though lately it seems more like fulltime) as a private detective. She's smart, funny and oh-so-adorable. The show is a blend of humor and noir with some heavy story arcs cut with humorous pop-culture references that most people between the ages of 18 to mid-30s would get a good chuckle over (especially if you're a fan of The Big Lebowski or 'Battlestar Galactica'). Thomas' re-imagined version of the series would fast-forward through the rest of Veronica's college years and have her working full time as an FBI agent.
The fate of the show will hopefully be revealed at the CW Upfront, scheduled to take place in May.
'Veronica Mars' comes back tomorrow night (Tuesday) at 9 pm on The CW. I would especially like to encourage any 'American Idol' viewers to tune in to 'Mars'. After the final six perform their Bon Jovi songs, a bit of Veronica's edgy sarcasm might be just what you need to get "Livin' On A Prayer" out of your head before you go to bed.
Below is the flyer that was distributed by Cloud Watchers. For more information on 'Veronica Mars' and the campaign to save the show, check out their website here
Kelly joined CinemaBlend as a freelance TV news writer in 2006 and went on to serve as the site's TV Editor before moving over to other roles on the site. At present, she's an Assistant Managing Editor who spends much of her time brainstorming and editing feature content on the site.
Your Daily Blend of Entertainment News
Thank you for signing up to CinemaBlend. You will receive a verification email shortly.
There was a problem. Please refresh the page and try again.