Viacom Wins Lawsuit Over South Park Spoof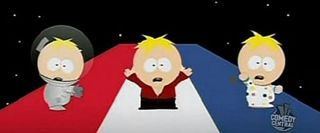 What should you do when your flamboyantly gay YouTube music video featuring excessive mentions of anal sex is parodied on South Park? Realize you are a bona fide star and enjoy the expanded exposure? Have a sense of humor and laugh? No, you should definitely sue media giant Viacom, only it appears a precedent has been set that isn't going to help your case much.
According to The Hollywood Reporter Wisconsin judge dismissed the lawsuit brought against Viacom and Comedy Central by Brownmark Films, responsible for the music video starring singer and songwriter Samwell. The music video went viral after its 2007 upload to YouTube to the tune of over 40 million viewers to date. The judge declared that the spoof of the video starring South Park character Butters in the role of Samwell falls under fair use.
It doesn't seem that Samwell holds any animosity towards Comedy Central, or at least it didn't stop him from appearing in a 2010 episode of Tosh.0, the network's series dedicated to mining internet videos for comedian Daniel Tosh to lampoon with his particular blend of sarcasm and self-deprecation. Tosh even created his own version of the song with the Queens of the Stone Age. Judging from his appearance on the show, lip gloss loving Samwell seems a little confused as to how he became a person of such interest.
The dismissal of the case leaves copyrighted content uploaded to YouTube and other websites open to the same kind of parody, although it's still quite legal for companies like Viacom to demand that anything stepping over the lines of their copyrights be removed from the web. So, aspiring YouTube sensations beware: foul mouthed animated eight year olds may just spoof you, and there's not much you can do about it. Except perhaps get over it, much like everyone else who has ever been slammed by the show.
Tags: SOUTH
PARKmore...
Your Daily Blend of Entertainment News