The Walking Dead 2013 Comic-Con Panel Live Blog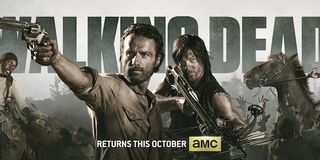 One of the most anticipated TV panels at SDCC this year is AMC's The Walking Dead, which returns to San Diego this summer ahead of its fourth season. This year's panel will be full of cast-members from the series, including Andrew Lincoln, Norman Reedus, Steven Yeun, Lauren Cohan, Danai Gurira and others. Comic book creator Robert Kirkman will also be there along with executive producers Gale Anne Hurd, Dave Alpert and Greg Nicotero.
In addition to a Q&A, we'll also get to see a new sneak peek of Season 4. Here's the official description for the panel:
1:36 p.m. PST - Chris Hardwick is moderating! He introduces executive producers Scott Gimple, Robert Kirkman (huge applause), David Alpert, Gale Anne Hurd and Greg Niccotero. Robert Kirkman talks about things progressing as the world in TWD continues to get worse. Scott says things have escalated. Right out of the gate, the things they've did for Season 4 have blown his mind. It's going to get insane very quickly. Gale Anne Hurd talks about the team spirit of the cast and crew. They want to bring the best season ever for the fans. That's their goal. The cast/crew did a field trip to a play Sarah Wayne Callies was in. And they talk about seeing Jon Bernthal. Those who are killed off don't really die on TWD. Or the actors don't, anyway.
1:43 - Dave Alpert talking about the evolution of the story. Once people start getting comfortable in their situation, things change. Scott talks about how "negative reinforcement" will affect the Governor going forward. He's a character who was being supported up until Penny died (or fully-died, anyway). Robert Kirkman says the Governor's return is a pretty big mystery.
Trailer time! They're teasing us with it before they show it to us. It's the world premiere of footage from the new season.
Starts with Daryl elbowing a glass window to attract walkers. He, Michonne, Tyreese and others go inside a grocery store. There's a scream. Cut to the prison. Lots of walkers. People fighing them off. Traps set. Poking them through the fence. Seems like they're barely hanging on there.Walker inside the prison. People getting bit. Someone attacked the cell block. They need to figure out who did this. Dead animals on the ground. A lesson about how to use knives from Carol. People looking exhausted. Hershel wonders if they might be safer outside the walls. "We just lost twelve of our own." Dead might be bait. Rick with this baby. Talk about whether or not they should leave. Daryl and Michonne in a car, about to be atacked. Tyreese just sits in the car for a moment like he's given up. A lot more zombie fighting and killing. Rick telling Tyreese he needs to calm down. Looked like Beth comforting Daryl. Ends with Daryl in the car with Michonne, Tyreese and another guy hearing a signal coming in through the radio.
I'm wondering if something happens to Sasha. There's a scene that shows Tyreese looking horrified by something. And then later it just seems like he's losing it. Not good!
1:51 - The cast comes out. Norman Reedus gets the biggest applause. David Morrissey got some boos (the kind the villain would get). Andrew Lincoln says Carl turning into a sociopath at the end of the season is a wake-up call for Rick on his parenting skills. In Season 4 he's trying to repress his brutality and he's given up some of his leadership for the sake of his family. Danai says Michonne is every woman. She has room for emotions. Women have a lot of capacity for a lot of things.
1:54 - Steven talking about how he loves Glen because he's constantly evolving. He's learning a lot of life lessons. He went through a terrible one with a person he truly cares about. He doesn't know how to handle the situation. All he sees is vengeance and how he can take of it himself and he puts her to the wayside. He says that was a great arc to play.
1:57 - Lauren talks about Maggie's decision to forgive Glen and the arc was a good springboard for the character. Scott Wilson says he thinks Hershel just wants to hold onto his other leg. Chad Coleman says Tyreese is still trying to find out how he fits in. What are the rules of engagement? How does he negotiate his place in the family and the outside world that's crashing in. He's still trying to figure it all out.
Here's the trailer!
2:02 - David Morrissey says the Governor feels like they betrayed him. But he didn't kill them all. He left two alive. Norman Reedus says when he read the script with Merle dying, he thought, "Man this day is gonna suck." Without Merle around, he could find himself. The people he's wtth are the family he's never had before. He notes that none of the characters are the same as they were in the first season. Andrew says that Rick realizes the brutality of pushing people away wasn't working for him and it was cataclysmic to his family. There's a whole new community at the prison in Season 4 and "new friction" between certain characters.
2:07 - Danai says expect the unexpected. Chris Hardwick suggests changing the title to Angry People. A fan asks if Michonne and Rick could get together. "Anything is possible." is the answer. Seems like a lot of fan support for Michonne/Rick (Richonne). Andrew Lincoln drops the first F-Bomb during an explanation. He talks about getting pulled through different times by different characters. There's an incredible unity. It's the beating heart of the show. Rick's been pulled out of this terrible place by these human beings.
2:15 - Danai says Laurie Holden was a dear indoctrinator for her into The Walking Dead when she was first introduced on the series. It's hard when a character goes. The perished actors photos are up on the walls at the show. They call it "The Grateful Dead." Steven talks about losing Dale/Jeffrey Demunn. Jeff gave him a Shakespeare book and encouraged him to read it. Steven says it's a crazy journey that all of them take. It's the beauty of the show. And it's beautiful for them because they get to play everything. Steven does a funny Jon Bernthal impersonation "Yo, bro! You gotta box, bro!" Talking about Bernthal telling Steven to come to his gym.
2:20 - Scott Gimple says the show has an amazing ensemble of characters and they affect each other. Their priorities in this world make them change each other. Alpert says have to figure out where the characters' are going and then they plot out what happens next. Robert Kirkman talks about how he wouldn't want to be fighting zombies all day long and being scared. He wouldn't want to live in this world that he created. He wouldn't hang himself, but he'd jump off a building so he could enjoy the free-fall sensation before it was over. Andrew says he'd be useless in the zombie apocalypse. He says Chandler Riggs has grown up and it sounds like we should expect to hear Carl with a deeper voice. Norman Reedus says he'd dance around naked and watch South Park.
2:27 - Button lady returns! She was around during a previous panel (she has a cape covered in buttons and if you've been to Comic-Con in previous years, you may have spotted her). She asks him if the Governor's going to do any singing. Doesn't sound like it. He's commenting on the bad lip reading video. He says his kids got a real buzz out of it.
Your Daily Blend of Entertainment News
Thank you for signing up to CinemaBlend. You will receive a verification email shortly.
There was a problem. Please refresh the page and try again.