The Walking Dead's Emily Kinney Signs On For ABC's Forever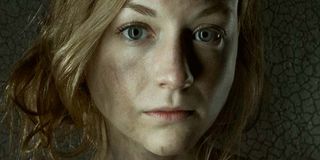 Before I jump into this article, let me just warn you that there will be spoilers from the Walking Dead Season 5 mid-season finale. Don't keep reading if you aren't caught up on the series
In typical Walking Dead fashion, the mid-season finale offered a giant sucker punch to the feels. The episode ended with Beth Greene (played by Emily Kinney) taking a gunshot wound to the head. Though her days of fighting walkers are over, Kinney has landed her first post-Walking Dead gig.
As EW reports, Kinney will guest star on the 16th episode of the ABC drama Forever. The episode will focus largely on the idea of obsession and things we cannot seem to let go of, and follows a college-age student who gets involved in a complicated role-playing game where she fulfills someone's 1970s-centric fantasy by dressing up in era-proper clothing. Ultimately, though, she ends up dead, and Kinney's character apparently falls into this same kind of obsession, presumably lacking bell bottoms. I'm just going to go on record and say that I don't think I can handle it if I have to watch Emily Kinney die again.
The irony is also not lost on me that Kinney's first post-Dead show is one that centers around obsession and an inability to let things go. I mean, there is a group of Beth Greene fans that actually started an online petition to somehow bring Beth back to life. I can understand the character's fans struggle to let her go, however. I mean, sure, we were all a bit prepared for Beth's death, knowing that the brutal mid-season finale of Talking Dead would feature a "surprise guest "-- which almost always means a character died -- and Beth's precarious position in that hospital put her on the shortlist of characters about to die. Hopefully seeing Kinney in an episode about letting things go will finally allow Beth fans to let her go.
If you haven't seen Forever yet, you should probably give the show a chance. Despite less-than-stellar ratings, the show has been given a full season order from ABC. Forever centers around a New York City medical examiner who partners with a detective to solve crimes. What's more, the medical examiner happens to also be immortal. Really, what more could you want in a crime drama, am I right? Despite the odd premise, the show walks the line between awesome and camp pretty darn well, making it a must-see for fans of slightly supernatural crime shows.
You can check out Forever on Tuesdays at 10 ET on ABC, and check back in a few week's for Emily Kinney's appearance.
Your Daily Blend of Entertainment News
Thank you for signing up to CinemaBlend. You will receive a verification email shortly.
There was a problem. Please refresh the page and try again.