The Walking Dead Season 4, Episode 1 Title Revealed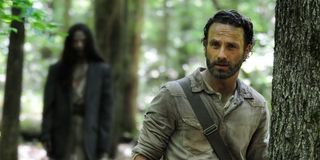 Earlier today, we shared the exciting details for The Walking Dead's Comic Con panel set for later this month in San Diego. We don't know exactly where the panel will take place within the convention center, nor what time, but we do know it's set for Friday, July 19. And a number of the cast members and executive producers, including comic book creator Robert Kirkman and new showrunner Scott Gimple will be there. In addition to the panel info, we saw the new banner, and now we have a new update on the upcoming fourth season of the zombie drama: the title of Season 4, Episode 1!
TVLine has reported that the first episode of the new season of The Walking Dead is currently titled "30 Days Without An Accident." They use the word "currently," which suggests the title could change. The site speculates that this title might refer to the timeframe between where Season 3 left off and where Season 4 picks up (one month later). That seems like a good theory. They also wonder if maybe things have calmed down at the prison, with 30 days since the last zombie attack, or that the group comes upon a potential new home base where people are tracking their own days-since-zombies with a chalk board.
Those seem like good guesses. When I see the words "30 Days Without An Accident," I think of factories or any workplace where accidents happen and the managers use a "Days Since" ticker to encourage their employees to be safe and avoid accidents. So maybe there's a factory or some other workplace environment that factors into the title. Or it could be that - with the Woodbury residents now living with Rick's group at the prison, assuming they're all still there - there have been accidents and incidents. The prison is a much different environment than Woodbury was, and it's entirely possible that some people are having a hard time adjusting to their new environment. I could see Rick or whoever's running things at the prison trying to treat the place like a work environment so that people are pulling their weight and not stepping on each others' toes while they all try to stay safe.
Right now, all we can do is speculate and hope that Season 4 will be amazing. We still have months to wait until the new season premieres, but hopeful we'll get our first look at some finished footage at SDCC. And AMC's usually pretty good about getting that online in a timely fashion, so those of you who aren't able to get to the convention probably won't have to wait very long to see the preview. In the meantime, if the new banner is any indication, we'll be seeing plenty of Tyrese, Rick, Daryl and Michonne.
And if you're craving lots of zombies this coming weekend, be sure to check out AMC's planned The Walking Dead Season 4 Preview Weekend, which gets started July 4.
Kelly joined CinemaBlend as a freelance TV news writer in 2006 and went on to serve as the site's TV Editor before moving over to other roles on the site. At present, she's an Assistant Managing Editor who spends much of her time brainstorming and editing feature content on the site.
Your Daily Blend of Entertainment News
Thank you for signing up to CinemaBlend. You will receive a verification email shortly.
There was a problem. Please refresh the page and try again.