The Walking Dead Trailer Delivers Zombies And Thrills, Season 5 Premiere Date Set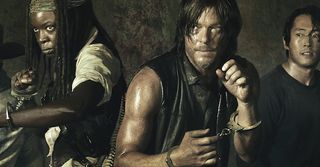 The Walking Dead panel at Comic-Con is underway, and as we hoped, the AMC drama gave us the official premiere date for Season 5 (October 12) and our first trailer for the highly anticipated fifth season of the zombie drama. AMC was quick to get it posted online, so you can check it out above!
The trailer begins with Rick saying "They're screwing with the wrong people." Then it looks like the railroad car is pumped full of gas and a bunch of guys in masks come storming in. There's a scene where we see Daryl, Rick, Bob, Glenn and others on their knees and gagged, looking like they're about to be killed. One of the guys from Terminus tells RIck and his group that they're going to go to Washington and kill this thing -- presumably meaning the virus.
From there, it looks like the Terminus man (and possibly others from his group) are with Rick and his people on a trip to Washington. It looks like Rick is holding Judith at one point, so it looks like Tyreese and Carol do reunite with the group. A lot of what's revealed is more of a montage of exciting scenes and thrilling moments. There are scenes in a church, a lot of gunfire, one really big explosion, a couple of thrilling walker attacks. And we see Michonne drawing her sword and Rick talking about how these people are his family. We also see Abraham dropping to his knees looking defeated or maybe grief-stricken.
And then there's Beth, who appears to be held captive in some secure building and trying to escape. Exciting stuff!
Other tidbits and reveals from the panel…
Scott Gimple says this season will define these characters.
Robert Kirkman says "very quickly, early on this season" they'll be getting back on track with comic book events. There are a lot of things that comic fans are excited about seeing that Kirkman thinks they'll get to this season.
Scott Gimple says the Blu-ray will include Rick saying "They're fucking with the wrong people."
Gale Anne Hurd says there are some scenes set in suburbia or urban settings inspired by the comic books.
Chandler Riggs showed up with a giant can of pudding.
Unsurprisingly, Norman Reedus got a huge applause when his name was announced during the introduction.
The Walking Dead Season 5 is confirmed to return for Season 5 Sunday, October 12.. The fifth season is expected to be "explosive," "brutal" and "thrilling." Check out our photos we took of the the excellent Walking Dead display here. And you can see the great Season 5 banner after the jump…