Warehouse 13 Premieres Its Second Season July 13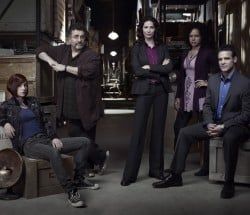 Syfy just had to be clever with their announced return date for their smash hit series Warehouse 13. Announced via Twitter, Executive Vice President of Original Programming Mark Stern revealed the second season will kick off this summer on July 13. Get it? Oh man, that's rich!
Warehouse 13 premiered with 3.5 million viewers, including an impressive 50% of them being women, and actually rose to set an all-time Syfy record at 4.4 million viewers by its sixth episode. The premise revolves around a pair of Secret Service agents who are recruited to work for the Warehouse, traveling the globe looking for "Artifacts." The "Artifacts" are objects of mysterious powers that are generally tied to significant and famous events and people in world history.
What I'm most excited about is the fact that FOX's Brothers is all but canceled at this point. I'd love to see the wonderful CCH Pounder more available to further flesh out her brilliant Mrs. Frederic character; the de factor leader of the Warehouse division. She was under-utilized last season while her talents were being wasted on FOX's trashy sitcom, so with her schedule freed up, perhaps the second season will allow us the opportunity to learn more of her secrets.
No matter what happens, the 12-episode second season promises more of that light-hearted fun the first season gave us. Hopefully, Allison Scagliotti's Claudia Donovan will get more opportunities to get into the field this season, as she brought a youth and energy to the series that made it even better about halfway through this past season.
Your Daily Blend of Entertainment News
Your Daily Blend of Entertainment News
Thank you for signing up to CinemaBlend. You will receive a verification email shortly.
There was a problem. Please refresh the page and try again.