Warehouse 13 Preview: Meet The New Guy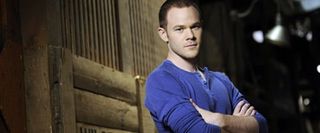 I have high hopes for Season 3 of Warehouse 13, premiering July 11th on Syfy. I've been following the show since its premiered in 2009, and I've grown quite attached to its band of wacky characters, especially Eddie McClintock's Pete, Saul Rubinek's Artie, and Claudia, played by nerdy hottie Alison Scagliotti.
The show's second season ended on a downbeat, with Agent Myka Bering (Joanne Kelly) departing the Warehouse without even offering a goodbye to her kooky, relic hunting pals. Season 3 picks after Myka's departure and will introduce a new character, ATF agent Steve Jinks, played by Smallville vet Aaron Ashmore.
Ashmore is featured in the new promo for Warehouse 13's third season, embedded below. The video also offers shots of Eureka vet Neil Grayston, who will reprise the role of Fargo in at least one episode this season, a follow-up to last year's fun Eureka/Warehouse 13 crossover.
Fans of Claudia will appreciate the following clip from the season three premiere, 'The New Guy,' featuring Clauds welcoming Ashmore's Agent Jinks (yeah, that's his name) to the Warehouse. The scene is reminiscent of an early scene from the show's series premiere, in which Artie offered Pete and Myka a similar off-putting welcome. Dig:
Like in season's past, the new season of Warehouse 13 will offer appearances from some great, geeky guest stars, including Star Trek vets Jeri Ryan, Kate Mulgrew, and returning guest player Rene Auberjonois. Caprica alums Sasha Roiz and Alessandra Torresani will also be stopping by for guest stints. Sounds like we're in for a very enjoyable, nerdy summer!
Your Daily Blend of Entertainment News
Thank you for signing up to CinemaBlend. You will receive a verification email shortly.
There was a problem. Please refresh the page and try again.